OSCE: Kramatorsk fired on from south-southeast
11:51, 11 February 2015
War
The Smerch rockets that hit Kramatorsk on Tuesday, killing 16 people and wounding another 64, were fired from the south-southeast, from the direction of militant-held territory, the Organization for Security and Cooperation in Europe has reported.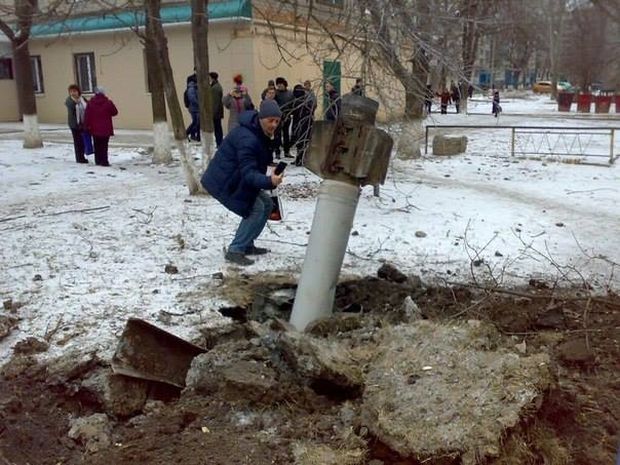 Photo from facebook.com/bigredaktor
The results of an OSCE investigation at the scene of the attack were given in a brief report by its special monitoring mission in Kramatorsk, Ukrainian online newspaper Lb.ua reported.
"According to the special monitoring mission, three shells were 300mm ammunition fired from BM-30 Smerch [rockets]," the OSCE said.
"Based on observations on the ground, photographs and a map analysis, the mission has determined that the [rocket were launched] from the south-southeast direction. The special monitoring mission has not yet carried out an analysis of the [impact] craters for safety reasons," the report reads.
Ukrainian government has said the Smerch rockets were fired from the militant-held town of Horlivka, about 90 kilometers to the south-southeast. Smerch rockets have a maximum range of 90 kilometers.
Video and photographic evidence from the attack indicates that the Smerch rockets had cluster munition warheads.
If you see a spelling error on our site, select it and press Ctrl+Enter