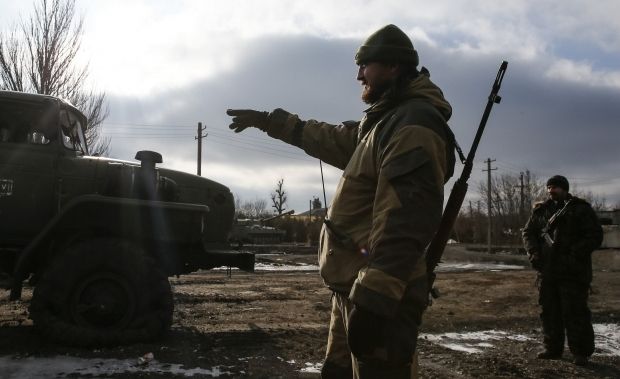 REUTERS
"Some of the militants moved towards the village of Nyzhnie Lozove, while another group of militants went along a few kilometers of the Debaltseve-Artemivsk road towards the village of Novohryhorivka, and occupied an intermediate position," he said.
"De-blocking groups of Ukrainian troops have moved forward along the E40-M03 road to the Debaltsevskiy crossroads," Tymchuk said.
"However, at the moment the enemy can still fire on the passing vehicles, and raid, with the help of sabotage and reconnaissance groups, a number of the Debaltseve-Artemivsk road sections," Tymchuk said.
Ukrainian troops are surounded in the town of Debaltseve, with Ukrainian relief forces attempting to break through the militant encirclement of the town. There are thought to be from 1,500 to 5,000 Ukrainian soldiers trapped in Debaltseve, which is a strategic position for both sides.
Earlier, pictures appeared on social media of trucks and APCs apparently abandoned by Ukrainian troops to the south and east of Debaltseve, and there are unconfirmed reports that the militants have advanced into the town itself.