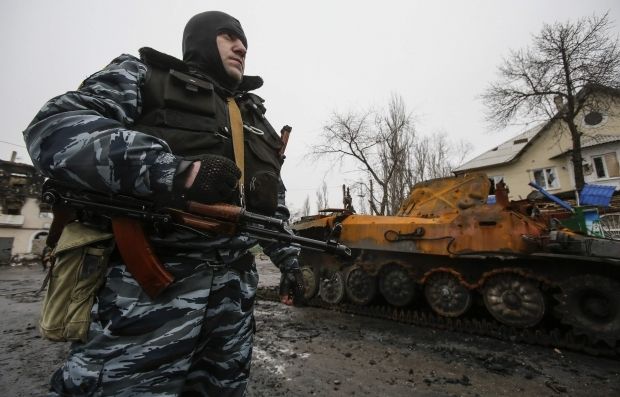 REUTERS
"Two BM-21 Grad [multiple rocket launcher] and a column of trucks have been deployed near the station of Bairak (in Horlivka district). The column was accompanied by Russian soldiers, half of them dressed in the uniforms of the Russian Armed Forces, and half in the new type of Ukrainian uniform bearing the Ukrop badge and Ukrainian flag [badges]," Tymchuk said.
Also, according to Tymchuk, in the vicinity of settlements Krymske and Trekhizbenka, the militants have begun to regroup their forces. There was movement along the front line by several small tactical groups.
"Two artillery units and two infantry units with armored vehicles have changed their positions," Tymchuk said.
He also added that concentrations of militants in Donetsk (in the Kuibyshevskiy and Kyivskiy districts) are continuing.
"An armored group (4 tanks, one ZU-23-2 [anti-aircraft gun] on a KamAZ [truck] and six BBM, two BMP-2, one BMP-1 and three BTR-80 [armored personnel carriers] advanced in the direction of Avdiyivka. A new mortar battery appeared between the settlements of Pisky and Krasnogrovka," Tymchuk wrote.