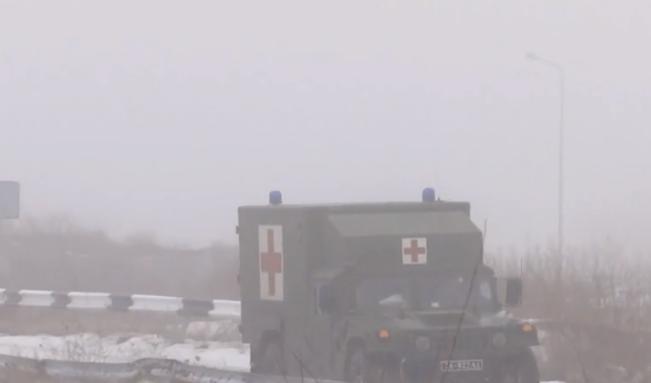 Paramedics have evacuated one dead and two wounded soldiers in the past day / Screenshot
Paramedics have evacuated two wounded members of Ukraine's Joint Forces and one dead soldier, who was killed by an enemy sniper near the village of Pisky, 12 km from the ruined Donetsk Airport on the outskirts of the Russian-occupied city of Donetsk, eastern Ukraine.
They were evacuated in the past day, the TV news service TSN said.
Vladislav Vodolazsky, a paramedic from the evacuation unit of the 57th brigade, said they had managed to evacuate a soldier named Pavlo with liver and right kidney wounds.
Read alsoInvaders kill Ukrainian soldier, suffer losses as Joint Forces return fire Jan 4
The sniper wounded Pavlo first, but did not kill him with a second shot, waiting when other soldiers came to help the wounded. And then he shot dead the company sergeant, Serhiy Huzenko, 32, who died from a shot in the heart on the spot.
"It's hard to endure mentally. On the one hand, this is our job, but on the other hand, we all have feelings, [the killed soldier] had a family," explains chief of the paramedics unit of the 57th brigade Bohdan Kolmykov.
Yet, the paramedics are glad that they managed to outsmart the sniper and pull Pavlo out of danger. He is now in a coma, but the doctors forecast he will survive. The other soldier has a penetrating shrapnel wound to the right eye and will undergo surgery.
The sniper appeared after a recent rotation of Russian-led forces in Donbas, TSN said.
Ukrainian soldiers remain cautious and try to stay in the trenches – the enemy shooter is somewhere near, his optic sight is good and his rifle is well adjusted.