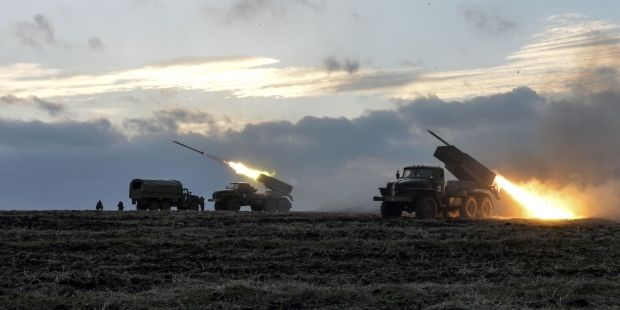 REUTERS
"Today, having agreement on a ceasefire from 0000, February 15, Russian-backed militants and the Russian armed forces have been ordered to raise the Russian flag over Debaltseve," he said.
According to Mekhed, the same task has been set for Mariupol.
"However, while there is a fierce fighting for Debaltseve, which has been attacked three times as of this morning, Mariupol is still under the control of the Ukrainian armed forces," he said, according to Ukrainian online newspaper LB.ua.
"According to the latest information, there are more than 10,000 soldiers of the Russian armed forces on the territory of Ukraine," Mekhed said.
As reported earlier, Russian-backed militants have blocked the main roads from Debaltseve to Ukrainian-held territory, but, according to MP Semen Semenchenko, country and open-field roads are still open.
"There is no 'pocket' near Debaltseve. I've been saying this for several days and I'll repeat it once again: the militants control the villages of Lohvynove and Lozove on the Artemivsk-Debaltseve and Debaltseve-Luhansk routes," Semenchenko said.
"This is called an operational environment. This blockade makes it difficult to reinforce our groups in Debaltseve and to evacuate the wounded. But it is not a pocket, because there are plenty of country and field roads controlled by the Ukrainian armed forces and the National Guard, that's why the supply and the removal of the wounded still take place. But the situation is complicated and the operational environment could become a pocket at any time if the command is inactive."
As UNIAN reported earlier, the fighting for the Debaltseve salient has reached an unprecedented intensity.
"The militants fire massive artillery and mortars barrages on the positions of the Ukrainian armed forces," Ukrainian journalist Yuriy Butusov wrote on his Facebook page.
"The Russian troops storm our strong points under the cover of [artillery] fire, trying to break through the defensive perimeter. The peace agreements reached in Minsk hasn't led to a decrease in tension, but to its escalation," Butusov said.