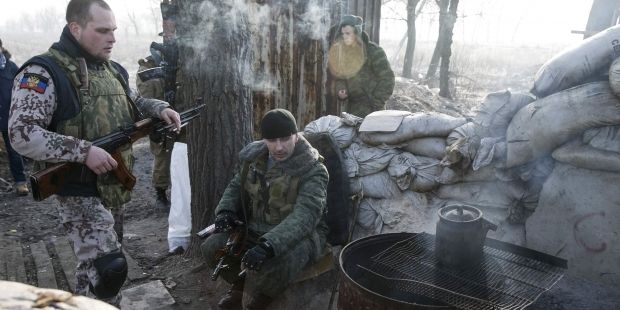 REUTERS
"The enemy has performed a regrouping of its forces. Two battalion tactical groups of Russian-backed troops have been deployed in  the area of Horlivka, reinforced by a separate armored group (totaling 900 people, 25 tanks, 32 armored combat vehicles, up to 20 other vehicles, two mortar batteries, and two artillery batteries - six D-30 howitzers and six MT-12 anti-tank guns)," Tymchuk wrote.
A ceasefire was supposed to have come into effect in Ukraine on Sunday at midnight, but militant forces have continued to attack Ukrainian positions in Debaltseve and the area around Mariupol.
The leader of the Donetsk People's Republic militant organization, Oleksandr Zakharchenko, has said his forces will continue to attack Debaltseve, and he threatened to take the cities of Mariupol in Donetsk region and Kharkiv in neighboring Kharkiv region if Ukraine does not observe the ceasefire.