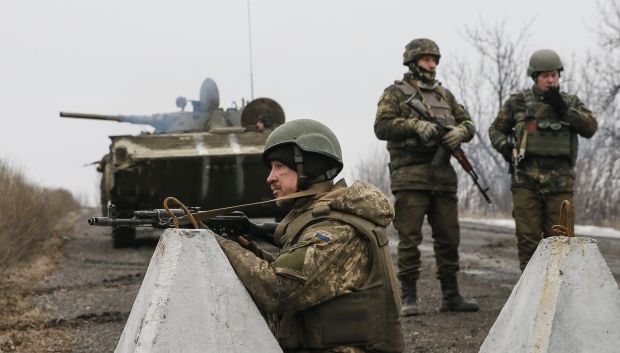 REUTERS
"From Debaltseve. Fifteen minutes ago the 'Russian world' fighters seized the local police department shouting 'Allahu Akbar," journalist Andriy Tsaplienko wrote on his page on Facebook. 
"An hour ago [the militants took] the railway station," he wrote.
The head of the Interior Ministry in Donetsk region Viacheslav Abroskin confirmed reports that the local city police department had been abandoned.
He said that as a result of shelling the local police department building had been practically destroyed. He ordered the police officers to relocate to a more fortified place, as it was too dangerous to stay in the old building.
There are persistent but unconfirmed reports of Russian troops being involved in the attack on Debaltseve, including soldiers from Murmansk and Muslim fighters from Chechnya.
Russia denies that it has sent any troops to help the militants in the Donbas, but a large amount of circumstantial evidence indicates that Moscow has been deeply involved in aiding the militants in the Donbas for months.
Apart from sightings of troops wearing the insignia of Russian regular units, photos and videos have emerged frequently on the Internet in recent months of military equipment in the hands of militants in the Donbas that could only have come from Russia .
In a recent report, a U.S. group, using photo and video evidence gleaned from the Internet, identified 19 individual weapons systems being used by militants that have only ever been issued to the Russian armed forces.