Photo from UNIAN
Russia has shut down for navigation the area in the Sea of Azov near the Kerch Strait to conduct live-fire drills on February 18-20, 2019.
The exercise is taking place in the western part of the Temryuk Bay, near the Kerch Strait, the Ukrainian Military Portal wrote referring to its sources.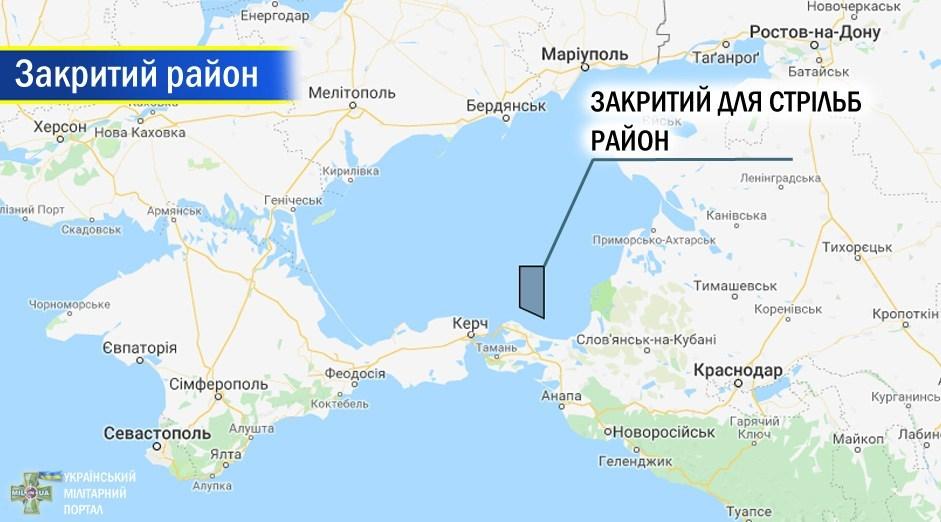 Ukrainian Military Portal / the area closed down for navigation is shown in blue
It is also reported that on Saturday night, Russia conducted e-warfare exercises at the exit from the Kerch Strait to the Black Sea. The purpose was to identify the coordinates of an earlier lost radar target between Kyz-Aulsky and Takyl radio observation posts located in the southern part of the Kerch Strait in the Black Sea.
Ukrainian Military Portal / area of e-warfare drill
The training took place in the area where on November 25, 2018, Russia committed an act of aggression, having attacked and seized Ukrainian naval vessels and their crews.
UNIAN memo. On the morning of November 25, Russia blocked the passage to the Kerch Strait for the Ukrainian tugboat "Yany Kapu" and two armored naval boats "Berdyansk" and "Nikopol," which were on a scheduled re-deployment from the Black Sea port of Odesa to the Azov Sea port of Mariupol.
The Ukraine Navy Command noted that the Russian side had been informed of the plans to re-deploy the vessels in advance in accordance with international standards to ensure the safety of navigation. The Russian coast guard ship "Don" rammed the Ukrainian tugboat, damaging the Ukrainian vessel. As the Ukrainian boats were heading back in the Odesa direction after being rejected passage via the Kerch Strait, Russian coast guards opened aimed fire on them.
Read alsoRussia to exploit issue of captive Ukrainian sailors, political prisoners release in context of Ukraine elections – Klimkin
All 24 crew members on board were captured and later remanded in custody for two months, being charged with "illegal border crossing" (the sailors are facing up to six years in prison).
Three crewmen were wounded in the attack.
Russian-controlled "courts" in occupied Crimea ruled that all 24 detainees should be remanded in custody, after which they were transferred to the Moscow-based Lefortovo and Matrosskaya Tishina detention centers.
 Moscow's Lefortovo district court in the middle of January 2019, ruled to keep the Ukrainian sailors in remand until the end of April 2019.