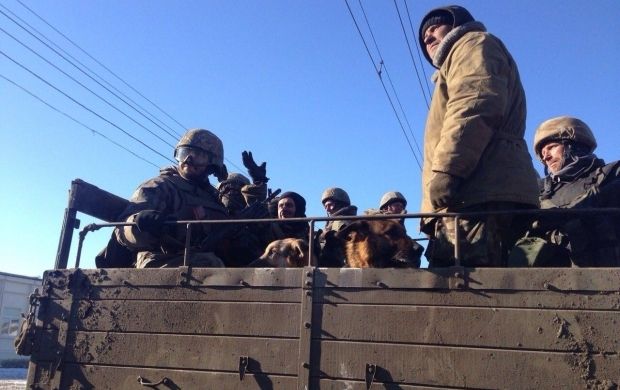 Photo from facebook.com/hromadsketv
"Debaltseve is no longer ours," one soldier told UK newspaper the Guardian's Alec Luhn as tanks, APCs, ambulances and soldiers on foot came into Artemivsk, the next town along the road to the north-west, after escaping near encirclement in Debaltseve.
"We can't stay: the city's been captured," another soldier told Luhn, the journalist reported on Twitter.
From early morning on Wednesday photos and reports from the area started to appear on social media, showing the Ukrainian forces apparently in full retreat from Debaltseve. However, other reports spoke of thousands of Ukrainian troops still being trapped in the town.
Meanwhile, sources from the militant side spoke of "hundreds" of Ukrainian troops being taken prisoner. Video from Russian media appears to show much of the town now under militant control.
Semen Semenchenko, the commander of a pro-government volunteer battalion, said on Facebook that Ukrainian troops were leaving Debaltseve "according to plan and in an organized way," Radio Liberty reported.
Semenchenko also said - confirming reports from other sources in the area - that the Ukrainian troops were being fired on by the Russian-backed militants as they left. The Ukrainian defense ministry said on Wednesday that combat operations were still going on in the town.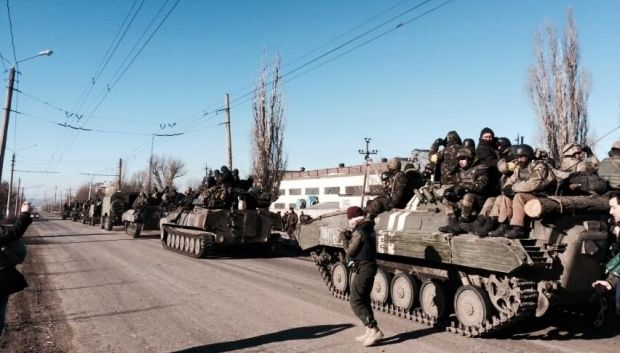 Photo from facebook.com/anastasiia.bereza
However, on Tuesday it had become clear that many of the Ukrainian troops in Debaltseve were in a dire situation, with soldiers from several units calling journalists to plead for help, saying they needed reinforcements, artillery cover, or a safe corridor out of the town. Some blamed the Ukrainian General Staff for failing to give them the proper support.
"There is almost no food left. Morale is weakening due to [the command's] attitude - no reinforcements, no OSCE representatives," the second-in-command of  Ukraine's 40th Battalion Yuriy Sinkovsky told Ukrainian newspaper LB.ua on Tuesday.
"Attacks and firefights are under way. The guys on the ground are not going to retreat and give up. But the enemy forces are much stronger. We're getting exhausted."
Anastasia Bereza, a journalist working for the Ukrainian political weekly magazine Novoe Vremya, reported from near the besieged town on Tuesday that Ukrainian military units were still able to enter and leave Debaltseve, but with great difficulty and with losses.
"Today the situation is much worse than yesterday," Bereza said.
"Firing from both sides has increased. In addition, there is very heavy shelling, more powerful than Grad multiple launch rocket systems. According to the soldiers who are directly in the area of Debaltseve, it would be possible to change the situation only by using the serious forces of the mechanized brigades."
But as Wednesday dawned, it appeared no brigades of tanks were rushing into Debatlseve to rescue Ukrainian troops, but that only exhausted soldiers, many wounded, were coming out of the town, still under fire.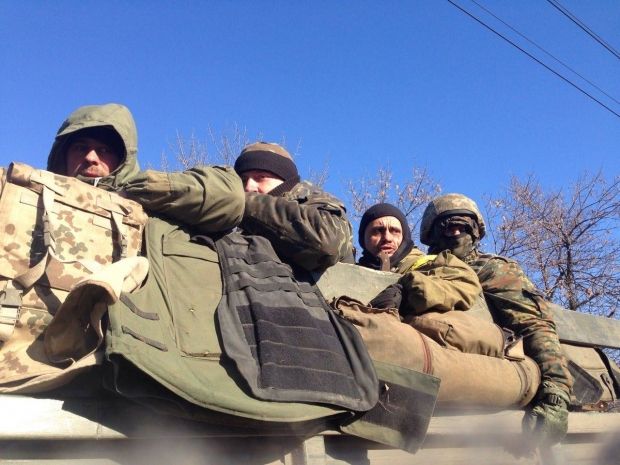 Photo from facebook.com/hromadsketv