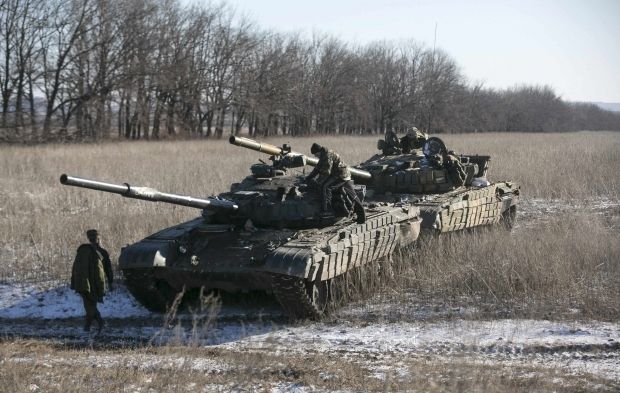 REUTERS
The Russian-backed militant have taken full control over the town and its railway station, and are currently setting up a kind of "military base" in the town, Tymchuk said.
"In the direction of Artemivsk (Svitlodarsk-Luhanske) enemy forward units are attempting to advance towards Luhanske," he said.
Ukrainian units covering the withdrawal of groups of Ukrainian troops from Debaltseve are engaged in containment combat, he said. The militants also began the evacuation of disabled and damaged military equipment from the battlefield in the area of Debaltseve (the equipment is being taken to Horlivka and Yenakievo).
A tactical group of Russian-backed forces from the " Horlivka garrison", reinforced by a company tactical team (staffed by local people, including a large number of young people aged 16-17 and senior citizens, who are poorly equipped and armed) have begun to advance towards the Artemivsk-Debaltseve road to the north of the village of Logvinovo. About 240 fighters, divided into four groups with attached armored vehicles (up to 10 tanks and six armored fighting vehicles), are involved in the attack. Ukrainian artillery launches periodic strikes on this group.