Western journalists cast doubt on General Staff's Debaltseve pull out casualties reports
20:01, 19 February 2015
War
Witnesses claim it wasn't an organized withdrawal of Ukrainian troops.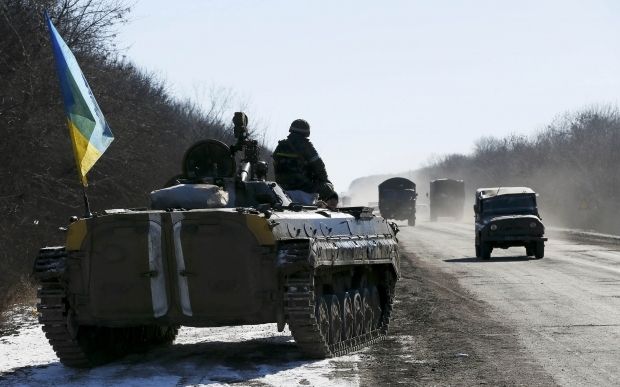 REUTERS
Western journalists who cover events in eastern Ukraine cast doubt on the reports by the Ukrainian General Staff on the casualties of the Ukrainian armed forces amid the withdrawal of the troops from the town of Debaltseve.
In particular, Deputy Chief of the General Staff of the Armed Forces of Ukraine Hennadiy Vorobyov reported about six fatalities, according to the Voice of America.
"Poroshenko says six were killed in the Debaltseve pull out. A medic I am talking to said he saw three trucks blown up with dozens in them," James Marson, Moscow deputy bureau chief, The Wall Street Journal, wrote on Twitter.
https://twitter.com/marson_jr/status/568166094457974784
What is more, an article in The Wall Street Journal about the circumstances of the withdrawal from Debaltseve cites other evidence that let question the official figures announced by the Ukrainian senior officers.
The article quotes a Ukrainian serviceman Igor, who is now in hospital in the town of Artemivsk.
"It wasn't organized. Vehicles were speeding past each other. We were chased by a separatist armored vehicle. Sixteen of our guys on a truck were just cut down by a machine gun," the article quotes Ihor as saying.
The source also claims that it wasn't an organized pull out.
"It wasn't a withdrawal. A withdrawal is supported by artillery and along a planned route. They abandoned us," Ihor said.
https://twitter.com/marson_jr/status/568154163214983168
Marson also tweeted earlier on Thursday that the soldiers who had managed to break through militant encirclement in Debaltseve denied the information that they had received an order from Kyiv to withdraw.
"Poroshenko's spox says he ordered withdrawal from Debaltseve yday. Soldiers on the ground say their commanders gave order as rebels advanced," Marson wrote on Twitter.
https://twitter.com/marson_jr/status/568004850627309568/photo/1
https://twitter.com/marson_jr/status/567987511101952000/photo/1
If you see a spelling error on our site, select it and press Ctrl+Enter