Captured mercenary confesses how much money he received from "DPR" (video)
21:21, 19 February 2015
War
The armor crewman says he bought a camera, a watch, a potbelly stove and a chainsaw for the earned money.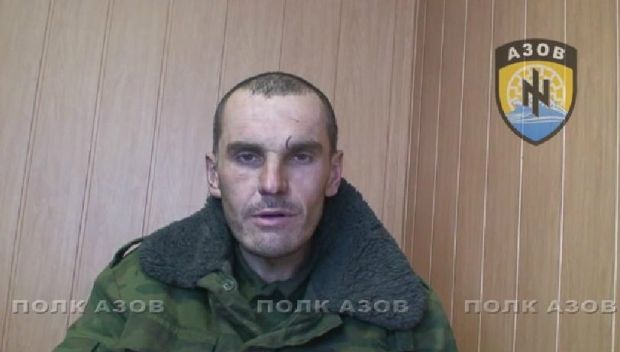 The captured mercenary confesses how much money he got when serving with DPR forces / screenshot
The Azov special purpose regiment has posted video footage of an interrogation of a militant tank commander who has been captured near the village of Shyrokyne in the south of Donetsk region.
The captive tanker who was serving for the army of the self-proclaimed Donetsk People's Republic ("DPR") said he had joined a militant group after he had been detained at a militant roadblock for the failure to present ID documents, LB.ua reported.
After that, he decided to join the militants to fight against 'Ukrops' [Ukrop,  literally "dill" in Russian, means 'a Ukrainian citizen' or 'a Ukrainian soldier', used derogatorily by those opposed to the Ukrainian government, army, or even nation] from the west of Ukraine. During the interrogation, he names the sums of money he received and tells how he spent it.
"[I got] 5,000 hryvnias in August, 1,000 U.S. dollars in October, 100 U.S. dollars and 1,200 hryvnias in December. I've bought a camera, a watch, a potbelly stove to be used in a dug-out shelter, spent 400 U.S. dollars on food in total. I also bought a chainsaw for that money," he said.
The tanker tells about two-week training near the city of Taganrog in Russia. He claims his instructors were officers from the Federal Security Service of Russia. According to him, he got his tank there.
If you see a spelling error on our site, select it and press Ctrl+Enter