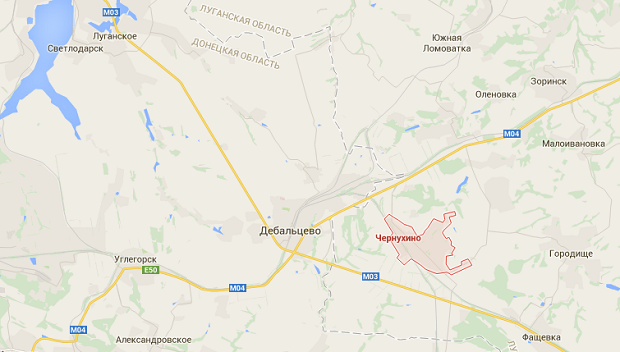 Image from Google Maps
The area of the village of Chornukhyne is 753 hectares, and its population was more than 6,000 people in peacetime.
"In the last few weeks communications with this village were lost due to the military actions near Debaltseve. Street fighting took place there. The repeated attempts to evacuate people, who were hiding in basements, were unsuccessful," the report says.
"Since October last year we have repeatedly repaired broken utilities systems in the village of Chornukhyne, repaid debts for pensions, and brought humanitarian aid," Moskal said.
"In January, accompanied by the military escort, we brought pensions and paid off all the social benefits and salaries there. In February, it was impossible to do that. As soon as the fighting broke out in the outskirts, the chairman of the village fled, leaving people to fend for themselves. He is a plain traitor, who has returned to the village of Chornukhyne only now with the militants," Moskal said.