Russian soldiers 'disguised as army of Novorossiya' spotted near Debaltseve
13:19, 20 February 2015
War
Russian soldiers disguised as militants have been spotted near the town of Debaltseve, recently captured by the militants, coordinator of the Information Resistance group and MP Dmytro Tymchuk wrote on Facebook on Friday.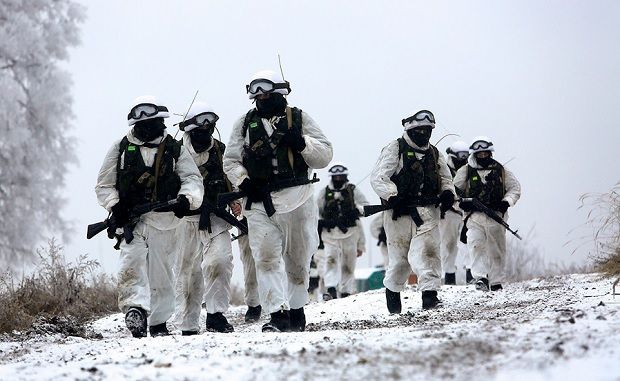 Photo from Russian Ministry of Defense
These units were directly involved in the fighting for Debaltseve in cooperation with the armed groups of the Donetsk and Luhansk Peoples' Republics militant organizations, Tymchuk said.
He said the units of the Russian armed forces were spotted to the southeast of Debaltseve.
They are "perfectly armed and equipped (disguised as [militants of] the army of Novorossiya). In particular, three battalions of tactical group of Russian troops and two supporting artillery groups (a total of 35 tanks, 68 armored combat vehicles, 50 guns and 24 cannon artillery installation MLRS) were spotted."
The command structures that were in charge of the "Debaltseve operation" (including artillery fire control stations) were also staffed by career officers of the Russian army. During the operation, the first to be involved were groups of local fighters (who are currently holding positions in Debaltseve and to the north of the town), who have much worse weapons and equipment.
A regrouping of the main shock task forces of the enemy deep into the occupied territory of the Donbas was also observed, Tymchuk said.
He said there had been a redeployment from the area of Debaltseve to Horlivka and Yenakievo of the remnants of the combat team from the "Horlivka garrison" who participated in the battles for Vuglegirsk (11 tanks, eight armored combat vehicles, two artillery batteries – mortar and anti-tank guns, four antitank missile systems and four Rapier MT-12 anti-tank guns).
Tymchuk said his group had also recorded the movement of several mobile groups of the Luhansk People's Republic (mostly the remnants of the so-called "Cossack" forces and local militants) by vehicles in the area of Pervomaisk (up to 250 people with several 120-mm mortars and four tanks).
If you see a spelling error on our site, select it and press Ctrl+Enter