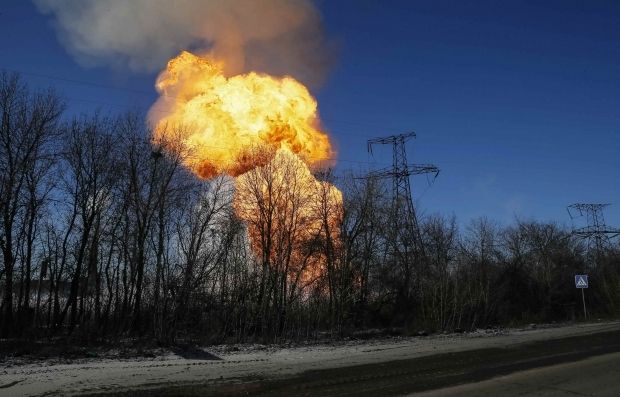 REUTERS
The report corroborates claims by Ukrainian soldiers that in Debaltseve they were fighting Russian regular troops, and not local militants.
In his report, Barabanov mentioned four Russian soldiers who had served under contract in a motorized rifle brigade and were now fighting with the militants in Ukraine.
"They are like on a perpetual mission there. The commanders were not against it, on the contrary, they welcomed their desire to go to the Donbas and to protect their homeland at that very moment," Barabanov said.
"They arrived in the Donbas not with one division, but in groups of three people - the crew of a fighting machine... They were assigned to different military units of the DPR," he said, explaining how the Russian troops entered the territory controlled by the militants and joined their army.
"Thus, the fighting is carried out by those who really know how to fight, and after them it is carried out by the local militants," the report says.
"Before storming Debaltseve, in order for the Buryats or the 'Donbas Indians' - as the militants call the Russian military - not to be seen, journalists were not allowed to come to Vuhlehirsk, from where the offensive began. Journalists will be allowed to enter Debaltseve after it is finally cleared of the Ukrainian armed forces and the checkpoints are controlled by the DPR militants."
Barabanov also said that the Russian soldiers weren't only allowed to fight in Ukraine, but they were also actively recruited by the Russian military.
"In the case of further militant attacks, the command of the Russian military units throughout the country will start to talk about how it is important to help the freedom-loving Donbas against aggression from the West. There is no compulsion - only volunteers," he said.
Barabanov also reported a conversation with a Russian soldier, who told him that his superiors immediately told them that they would go to war in Ukraine.
"They said at once. You see what these creatures are doing here, everyone wanted to be there. I'm serving not to learn how to sew and dig. Our leadership tells us that we can stop war in this way," the soldier said.
The journalist said he knew all names of all the soldiers in the text, but the newspaper does not deem it necessary to publish them right now.