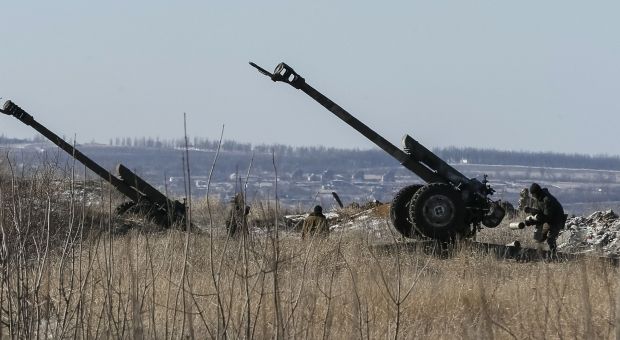 REUTERS
"Currently we're at the first stage of the preconditions – a complete ceasefire. As soon as the terrorists stop their attacks on our positions, we will implement the second stage. [But] at present, there is no comprehensive ceasefire," Stelmach said.
The same position was stated by the spokesman for the General Staff of the Armed Forces of Ukraine, Vladyslav Seleznev.
"In accordance with the Minsk Protocol and Minsk Memorandum, the first condition is the observance of the ceasefire by both sides to the conflict, and only then will the withdrawal of weapons and military equipment from the contact line start. Due to the fact that [militant] attacks on the positions of Ukrainian soldiers continue, the withdrawal of heavy weapons is out of the question," Seleznev said.
At the same time, he confirmed that the ATO forces have prepared the necessary transport for the withdrawal of the weapons.
As UNIAN reported earlier, a set of measures signed in Minsk on February 12 and aimed at implementation of September Minsk agreements to resolve the situation in the Donbas, provide for "the withdrawal of all heavy weapons by both parties at equal distances in order to create at least a 50 kilometer security zone for 100mm or larger caliber artillery systems, a 70 kilometer security zone for Grad multiple rocket launcher systems and a 140 kilometer security zone for Tornado-S, Uragan, and Smerch multiple rocket launcher systems and Tochka (Tochka-U) tactical missile systems:
- for the Ukrainian troops: [withdrawal] from the actual contact line;
- for the military units of individual areas of the Donetsk and Luhansk regions of Ukraine: [withdrawal] from the contact line in accordance with the Minsk memorandum of September 19, 2014.
The withdrawal of the aforementioned heavy weapons should have started no later than the second day after the ceasefire was declared on February 15, and have ended within 14 days.
The OSCE was expected to contribute to this process with the support of the Trilateral Contact Group.