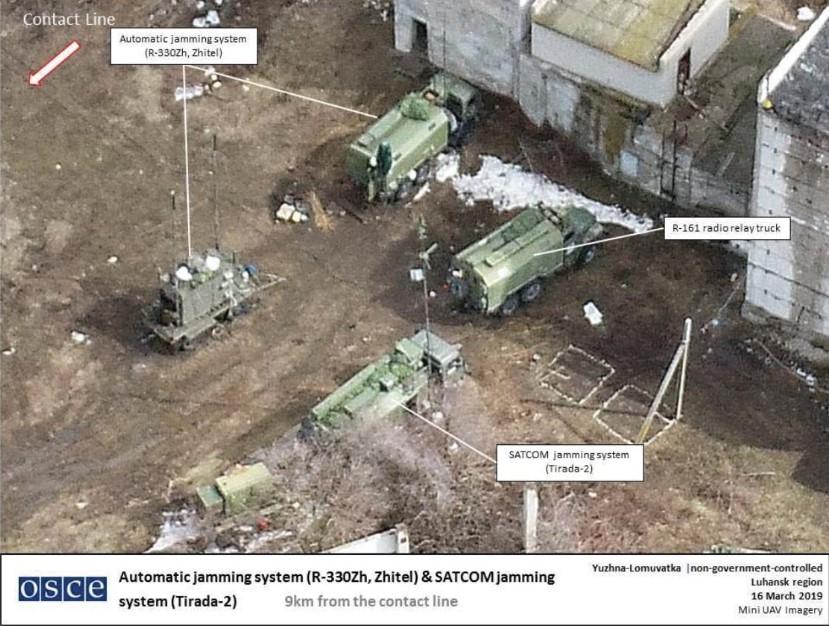 The systems are based near Yuzhna Lomuvatka, Luhansk region / Photo from OSCE Twitter
The OSCE Special Monitoring Mission to Ukraine has spotted Russia's brand new military equipment near the village of Yuzhna Lomuvatka in Russia-occupied Luhansk region.
"The newest Russian military equipment – the R-330Zh Zhitel (Resident) automated jamming communication station and the Tirada-2 electronic warfare [jamming] system – was spotted by the OSCE Special Monitoring Mission not far from the village of Yuzhna Lomuvatka in Russia-occupied part of Donbas," the Permanent Mission of Ukraine to the International Organizations in Vienna said on Wednesday, April 3.
Read alsoUkraine forces destroy enemy military vehicle in Donbas (Video)
According to Army Recognition, a global military army magazine, the R-330ZH also named Zhitel is a jamming communication station designed and manufactured by the Russian Company Protek. The system is in service with the Russian army and deployed by the 18th motor rifle brigade. The whole system includes one Ural-43203/KAMAZ-43114 truck and one shelter with four telescopic masts. The truck is the control center for the operators. The shelter is equipped with four telescopic active phased array transmitter antennas mounted on a four wheels trailer. The R-330ZH is designed for detection, analysis, direction-finding and jamming of satellite and cellular phone communication systems operated in the frequency from 100 to 2000 MHz. The jamming system provides analysis and selection of emitters' signal parameters. The R-330Zh jamming station was used by the Russian army during the Crimean crisis in March 2014.
According to the InformNapalm international OSINT community, Tirada-2 is an electronic warfare jamming system specialized in disabling communication satellites. The development of this system began in 2001. The first time it was publicly announced in 2017. In August 2018, at the Army 2018 Forum, a contract for supplying the Russian Ministry of Defense with these latest EW systems was publicly signed, and in the autumn they were tested. The manufacturer is OAO Elektropribor Zavod Company from Vladimir, Russia.
As UNIAN reported, members of the OSCE SMM to Ukraine say they spotted a massive buildup of multiple launch rocket systems, tanks, artillery systems, mortars and other types of weapons in Russia-occupied areas in Donbas.