General Staff: 19 soldiers killed, 135 injured during withdrawal from Debaltseve
Ukraine lost 19 soldiers during the withdrawal of about 3,000 troops from the Debaltseve salient, the government's Anti-Terrorist Operation headquarters spokesman Vladyslav Selezniov said at a briefing on Wednesday, according to an UNIAN correspondent.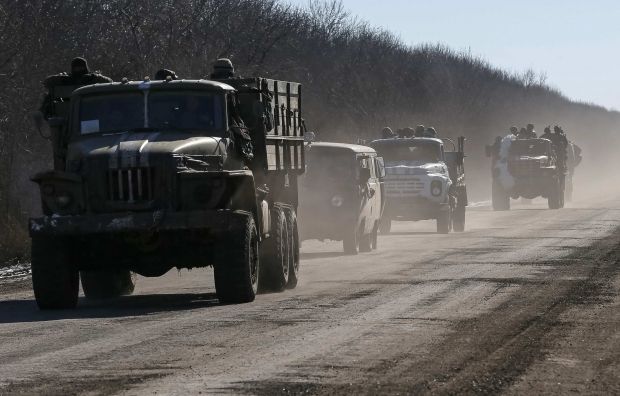 REUTERS
"During the planned withdrawal of about 3,000 soldiers from the Debaltseve bridgehead, Ukraine lost 19 soldiers. The fate of another 12 soldiers is being clarified. A total of 135 soldiers received injuries of varying severity... Nine defenders of the Debaltseve bridgehead are still in captivity," he said.
According to Selezniov, all government and public institutions are involved in working for the release of the Ukrainian military.
Ukrainian troops retreated from Debaltseve on February 18, days after a ceasefire was supposed to have come into effect in the Donbas under the Minsk peace agreements.
Ukrainian President Petro Poroshenko at that time said that the "withdrawal" of the Ukrainian forces from Debaltseve had been "planned and organized," but troops who had left the town told journalists that the decision to retreat had been taken by commanders on the ground, and the retreat itself had been chaotic.
According to reports from Ukrainian soldiers in Debaltseve, the town was captured by Russian troops - claims that have been backed up by recent reports in the Russian press featuring interviews with Russian soldiers who said they had taken part in the battle.
According to one report, most of the "rebels" fighting for control of Debaltseve were actually troops from Russian regular units - some from as far as Ulan-Ude in the Russian republic of Buryatia in eastern Siberia.
Numerous pictures of "Donbas rebels" in Ukraine who are of Asiatic appearance have been posted on Internet sites over the last few weeks.
If you see a spelling error on our site, select it and press Ctrl+Enter