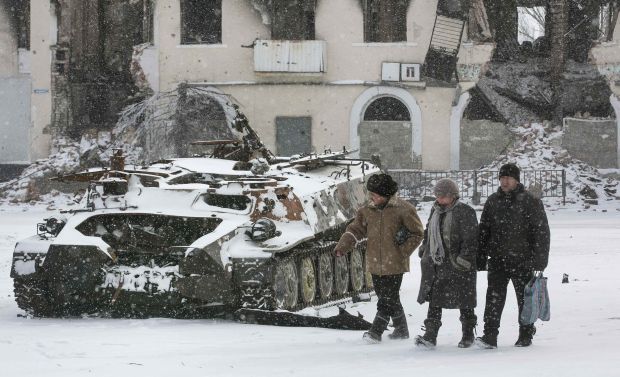 REUTERS
Power announced this at a meeting of the UN Security Council in New York on Friday.
According to her, the separatists use the current ceasefire for redeployment, and Russia continues to provide them with unrestricted access to weaponry.
Describing the situation around the village of Shyrokyne, she expressed concern that the nearby city of Mariupol, which is currently under the Ukrainian government's control, could become the next target for separatists and the Russian military.
Power also drew attention to the situation in Debaltseve, where "hundreds of bodies" have been found. In particular, referring to data provided by the UN, the U.S. Ambassador said 500 bodies had been found in the cellars of residential buildings in Debaltseve after the attack by militants on the town. According to her, people were hiding in the cellars and houses from firing by pro-Russian separatists.
"An OCHA report from the end of last month said that 500 bodies had been found in houses and basements at the end of the siege – 500 bodies. Homes and basements where people took shelter from the endless barrage of Russian-made mortars and rockets as they rained down on the city's residents – residents who could not escape," she said.
Power said that one of the rebel leaders had once declared that those who would be leaving the town would fall under their fire.
"Weeks into the siege, at the end of January, the self-declared leader of the Russian-backed separatists had announced, "Anybody who leaves…will be in the interlocking field of fire of our artillery. From today, the road is under fire." And so those inside were left with a choice: risk your life by staying, or risk your life by leaving. Civilians were killed doing both, and again, 500 bodies found in homes and basements where people took shelter," she said. 
According to her, the casualties and the displaced are one of the devastating consequences of this conflict. "Another – and one we rarely speak about in this Council anymore – is the ongoing illegal occupation and attempted annexation of Crimea by a permanent member of this Council. Crimea is important not only because it constitutes the continuing violation of the territorial integrity of a sovereign nation – a violation orchestrated in Moscow, and dressed up in a sham referendum – but also because it offers a preview of the kind of rule that we can expect in the other parts of Ukraine seized by those who see themselves as part of Novorossiya," Power said.
OSCE mission spokesman Michael Bociurkiw earlier said that there were no houses in Debaltseve that had not been destroyed or damaged.