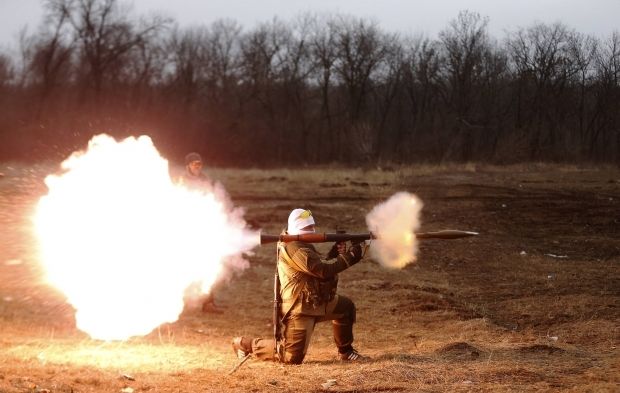 REUTERS
"During the night, from 2000 (Sunday) to 0600 (Monday), the militants attacked [Ukrainian forces'] positions 16 times, mostly using mortars and rocket-propelled grenades," the press center said.
However, from 0415 to 0435 militants fired twice at the town of Avdiivka with artillery, while at 0300 they fired cannon artillery on the village of Opytne, the press center said.
Both settlements are north of Donetsk airport, and well within the "buffer zone" between the sides in which it should now be impossible for attacks to be carried out with heavy artillery by either side - if they have carried out a complete withdrawal of these weapons, as both sides have claimed they have.
The OSCE, the organization charged with overseeing the ceasefire between the two warring sides in the Donbas, says it is monitoring sites to which the Ukrainian armed forces have withdrawn their artillery. However, the organization last week said its monitors were not being granted full access to all the sites to which the militants said they had withdrawn their artillery, making the militants' pullback impossible to independently verify.
The press center also said major combat militant activity was concentrated last night around the Donetsk area. In particular, during the night the village most affected was Pisky, which was attacked three times by the militants with mortars and rocket-propelled grenades. Other settlements attacked by the militants included Kransnohorivka and Vodyane, the press center said.
It said the village of Troitsky was attacked twice by the militants using 120-millimeter mortars and anti-aircraft guns.
Meanwhile, near Luhansk and Mariupol the militants made repeated attacks with small arms, the press center said. It said the situation near the village of Shirokino remains tense, with sporadic shelling having being seen there over the past few weeks.
In addition, over the last day Ukraine's air defenses detected nine flights by militant drones in the combat zone, the press center said.