Poroshenko: 19 Ukrainian soldiers killed during withdrawal from Debaltseve
A total of 19 soldiers were killed and another 135 injured during what Ukrainian President Petro Poroshenko said was a planned withdrawal of about 3,000 troops from the Debaltseve salient on February 18, the president said in an interview with Ukrainian television's First National channel on Monday evening.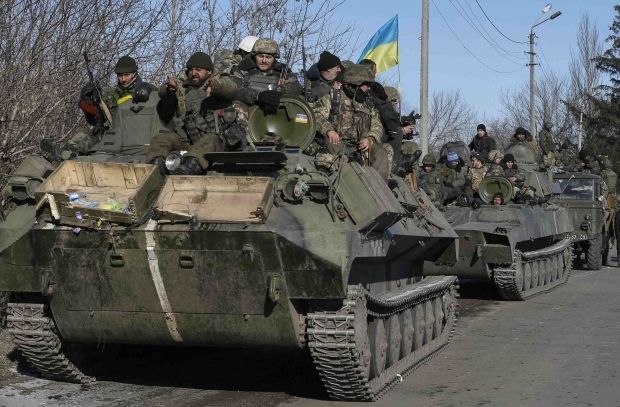 REUTERS
"During the planned withdrawal of about 3,000 soldiers from the Debaltseve bridgehead, Ukraine lost 19 soldiers," Poroshenko said.
"A total of 135 soldiers received injuries of varying severity. Nine defenders of the Debaltseve salient are still in captivity, because, as you know, we released 150 of our soldiers from the captivity of the militants," he said.
"The fate of another 12 soldiers is being clarified," Poroshenko added.
At the time of the retreat of Ukrainian forces from Debaltseve, days after a ceasefire was supposed to have come into effect in the Donbas, Ukrainian soldiers moving out of the town told journalists the withdrawal had been organized by commanders on the ground in the town.
They also said they had received little support from the Ukrainian high command as the Russian-backed militants moved in to virtually encircle Debaltseve. Several soldiers contacted the media directly on February 17 to report that the defense of the town was about to collapse.
The overnight and next morning Ukrainian troops began to retreat from Debaltseve, reportedly under fire from the militants. 
If you see a spelling error on our site, select it and press Ctrl+Enter