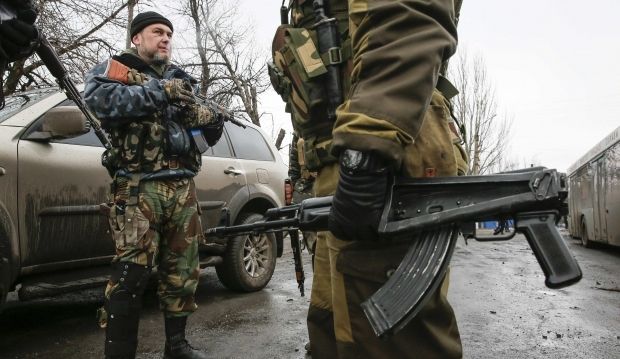 REUTERS
According to Tymchuk, part of the forces and resources of this group of fighters is involved in the fighting along the Pavlopol-Shyrokino section of the front line, with the rest operating in the area from Zaychenko to Zhovtneve.
"The group consists of 2,500 people, divided into several tactical groups of mixed composition (local rebels and Russian mercenaries), having at its disposal 25 tanks and 18-20 armored fighting vehicles, up to 60 units of army vehicles, more than 20 MT-LB and other tractors, and all sorts of converted all-terrain vehicles (primarily operated by mobile mortar teams)," Tymchuk wrote.
He also said that the strike group of the militants near Mariupol has been reinforced by military equipment and manpower coming from the north through Telmanovo, and directly across the border from Russia in the area of Maksymovo (with reports that 10-12 armored vehicles pass through Novoazovsk and Bezimenne every day).
"This strike group is being supported by an artillery group, which has 14 multiple rocket launcher units and around 32-36 artillery guns and self-propelled artillery cannons, as well as a large number of mortars. The artillery group primarily operates in separate firing units, but is managed from a single command center," Tymchuk said.
The militants have several times named Mariupol as one of the first targets they will attack if they advance to take more territory in Ukraine. They have also threatened to move on Kharkiv, Ukraine's second largest city, which is located far from militant-controlled areas of Ukraine, to the north and west.
The Ukrainian government has said it has lost control of more than 500 square meters of territory since a previous ceasefire with the militants (which was never actually observed) was supposed to have come into effect on September 9 last year.