More bodies of Ukrainian soldiers pulled from Donetsk airport rubble – OSCE
The Organization for Security and Co-operation in Europe's Special Monitoring Mission (OSCE SMM) to Ukraine says that it observed that bodies of Ukrainian Armed Forces soldiers were being recovered at the Donetsk airport.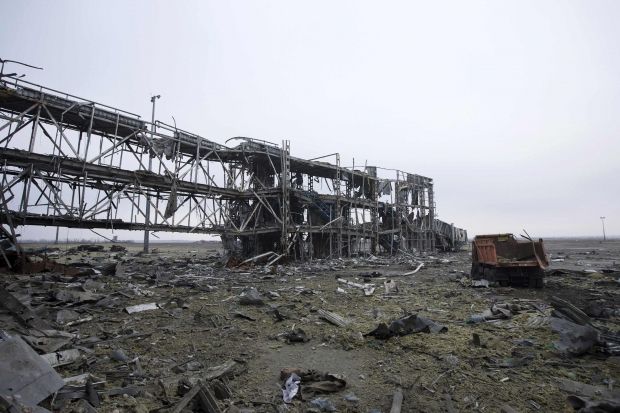 REUTERS
This was announced in a recent OSCE SMM report based on information received as of 1800 Kyiv time on March 13 and released on March 14.
"At the Donetsk airport new terminal, the SMM observed the arrival of the 'Donetsk People's Republic' ('DPR') 'emergency services,' together with 20 captives, whom the 'DPR' referred to as Ukrainian soldiers, who shortly after started searching for deceased Ukrainian Armed Forces soldiers," the report reads.
"The SMM saw two bodies being recovered from the rubble and prepared to be transported. After the preliminary identification of the bodies was made, the personal belongings were collected and handed over to representatives of the International Committee of the Red Cross (ICRC) present at the scene," the report reads.
According to the OSCE SMM, while at the airport, between 1210 and 1220 Kyiv time, the SMM heard 15 explosions in a south-westerly direction of its location. Between 1225 and 1343 Kyiv time the SMM heard 31 explosions south of its position.
In both cases SMM said they could not determine the types of weapons that were used, the distance of the origin of the sound, or if it was incoming or outgoing fire.
Between 1334 and 1349 Kyiv time the SMM heard approximately 20 single shots of small arms fire in an area approximately 500 to 700 meters south-east of its position.
The SMM also notes that the monitors are restrained in fulfilling their monitoring functions by restrictions imposed by third parties and security considerations including the lack of information on whereabouts of landmines.
If you see a spelling error on our site, select it and press Ctrl+Enter