Russia sends another 'aid convoy' to Donbas
Another large convoy of trucks that Russia claims is carrying humanitarian assistance was sent from Russia to the territory controlled by the Donetsk and Luhansk Peoples' Republics militant organizations, Russian news agency TASS reported on Thursday.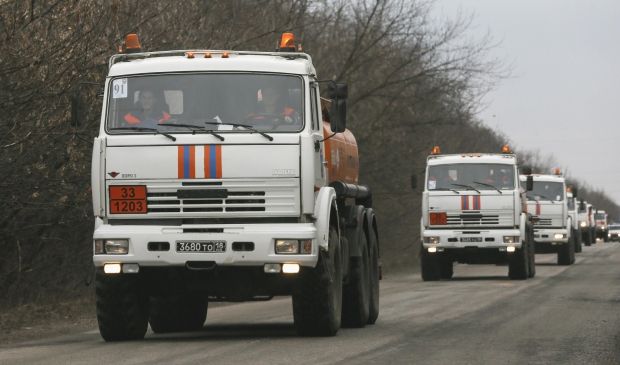 REUTERS
As reported, the trucks have already arrived at the uncontrolled part of the border.
According to the Russian side, the content of the convoy is mainly seeds for field work. Russia's claims cannot be independently verified.
As UNIAN reported earlier, Ukrainian border guards and representatives of the Red Cross have not been allowed to examine the goods sent into Ukraine, in contravention of international norms.
Ukraine has accused Russia of supplying weapons, ammunition and fuel to the militants of the self-proclaimed Donetsk and Luhansk People's Republics under the guise of humanitarian aid.
For example, on March 14 the OSCE observers reported that there were a large number of oil tankers in another humanitarian convoy from the Russian Federation.
One Russian mercenary interviewed recently by the Los Angeles Times told the newspaper that he had entered Ukraine on such a convoy, and that what aid they do carry is often stolen by militant fighters.
If you see a spelling error on our site, select it and press Ctrl+Enter