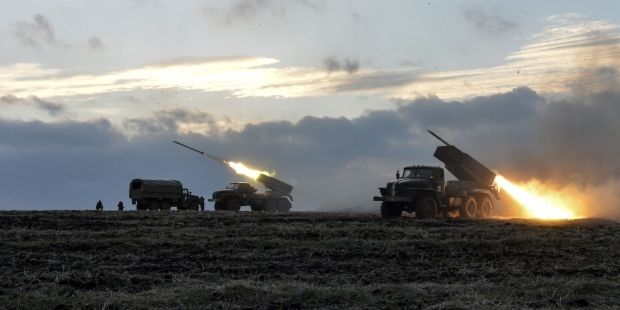 REUTERS
A reconnaissance and sabotage group of militants made an attempt to infiltrate into the town of Novotoshkivka in Popasna district, Luhansk region, in the early hours of Saturday.
This was announced by the press service of Hennadiy Moskal, the head of Lugansk regional military and civil administration.
At night, militants again used Grad multiple rocket launchers in Luhansk region after a long break, the press service said.
At 2300 Kyiv time on Friday, they were shelling the 29th roadblock at the Bakhmutka motor road and the dislocation of the Ukrainian forces in the town of Novotoshkivka. "Rockets exploded near a coalmine facility and Kuibyshev Street. As a result of a direct hit, a garage facility was burnt, some districts of the village were cut off the power grids. More detailed information about damage and casualties among civilians is being verified," the press service said.
What is more, from 0000 to 0330 Kyiv time on Saturday, a battle with the use of automatic weapons and rocket-propelled grenades continued on the outskirts of Novotoshkivka, not far from a bus stop, as a reconnaissance and sabotage group of Russian-backed militants was attempting to enter the town.
During the night there were skirmishes between the Ukrainian troops in Krymske and Russian "Cossacks" groups in Sokilnyky. Krymske remained out of the reach of firing, no destruction was reported. From 2100 to 2300 Kyiv time on Friday, the village of Stanytsia Luhanska was seeing automatic and machine gun fire with occasional explosions of shells. As a result, a power failure blacked out the central part of the village. There is no report about casualties yet.
"The use of Grad systems for the first time after the Minsk agreements were reached indicates that the terrorists cannot be trusted," Moskal said.
"Over the past month and a half, our repair teams have done titanic work to restore life supporting infrastructure in the villages along the line of contact. Civilians have even started to return home in the hope that the war was finally over. And now again: Grad [rockets], mortars, new destruction," he added.