Tymchuk: Militants sharply increase number of attacks on Ukrainian army in last day
Russian-backed militants have dramatically increased their activity in the Donbas conflict zone over the last 24 hours, head of the Information Resistance group Dmytro Tymchuk wrote on his Facebook page on Wednesday.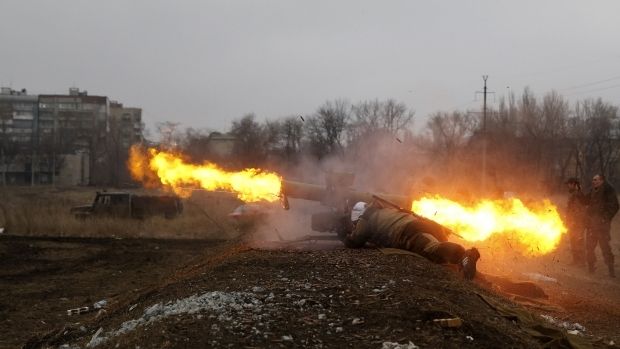 REUTERS
According to Tymchuk, the militants fired artillery and 120mm mortars, and tried to attack the Ukrainian units, including using armored vehicles.
A sharp growth of militant activity has been recorded in the Luhansk, Donetsk and in coastal areas.
The militants were the most active near Avdiivka. Before noon on March 31 a group of militant tanks fired on the positions of the Ukrainian army from a previously prepared firing position. After firing, the tanks were withdrawn. After that, the militants fired 122mm cannon artillery twice - weapons that should have already been withdrawn from the demarcation line according to the Minsk agreements.
Also, a formation of the Russian-backed militants fired 120-mm mortars twice on the positions of Ukrainian troops near the village of Opytne. At the same time, the Ukrainian army near the village of Pisky faced a militant armored force, including three infantry fighting vehicles, which fired 30-mm automatic guns on the positions of the Ukrainian army.
In the area of Luhansk, near the village of Stanytsia Luhanska, a patrol group of a Ukrainian airmobile unit while moving along the demarcation line was attacked by two groups of militant infantry. The militants fired small arms, grenade launchers, and heavy machine guns. As a result of a counterattack by the Ukrainian paratroopers, the militants were driven back from the demarcation line.
In coastal areas the militants fired 120-mm mortars at a fortified position of the Ukrainian armed forces near the village of Pionerske. After that, they fired 120mm mortars and 122mm cannon artillery twice on the village of Shyrokyne. After the artillery barrage near Shyrokyne, the militants attacked the positions of the Ukrainian armed forces using armored vehicles, including three or four tanks and an infantry assault group.
If you see a spelling error on our site, select it and press Ctrl+Enter