OSCE monitors report about shelling of Ukrainian-controlled Avdiyivka from separatists' territory
The OSCE Special Monitoring Mission (SMM) to Ukraine has issued an update based on information received as of 1800 Kyiv time on March 31, 2015.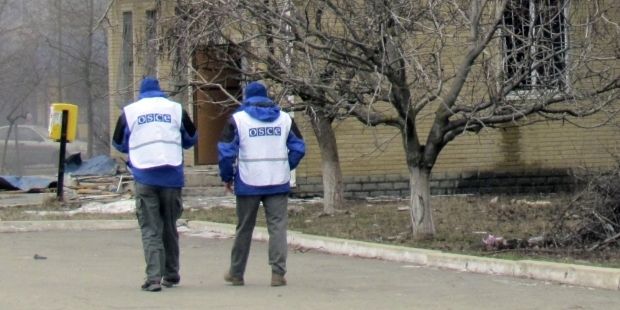 REUTERS
They reported that the Ukrainian-controlled town of Avdiyivka in Donetsk region is shelled by Russian-backed militants.
"In government-controlled Avdiyivka (14km north-north-west of Donetsk), the SMM heard the sound of 17 out-going 125mm tank rounds from 'DPR'-controlled Spartak, seven kilometres to the south-south-east," the update reads.
The SMM also reported that when positioned 3.5 kilometres west of 'DPR'-controlled Shyrokyne (16km east of Mariupol), the SMM heard what it assessed to be 15 mortar rounds impacting in Shyrokyne. At another location 4.5 kilometres north-west of Shyrokyne, the SMM heard in the space of five minutes the sound of what it assessed to have been approximately 22 medium and high calibre rounds impacting in the village.
"Later, over an hour, the SMM heard approximately 70 outgoing 82mm and 120mm mortar shells, fired from locations east, south and south-east of its position, and impacting in and around Shyrokyne village. From the same position, the SMM subsequently heard more shelling, possibly coming from 128mm multiple rocket launchers. Persistent 12.7mm machine-gun fire and some tank fire, and sporadic small-arms fire were audible throughout the day," the SMM said.
"A grenade – fired from an automatic grenade launcher – impacting less than 100 metres away – and subsequently ten incoming mortar shells – impacting between 300 metres and one kilometre from its position – eventually forced the SMM to leave the area," the update said.
If you see a spelling error on our site, select it and press Ctrl+Enter