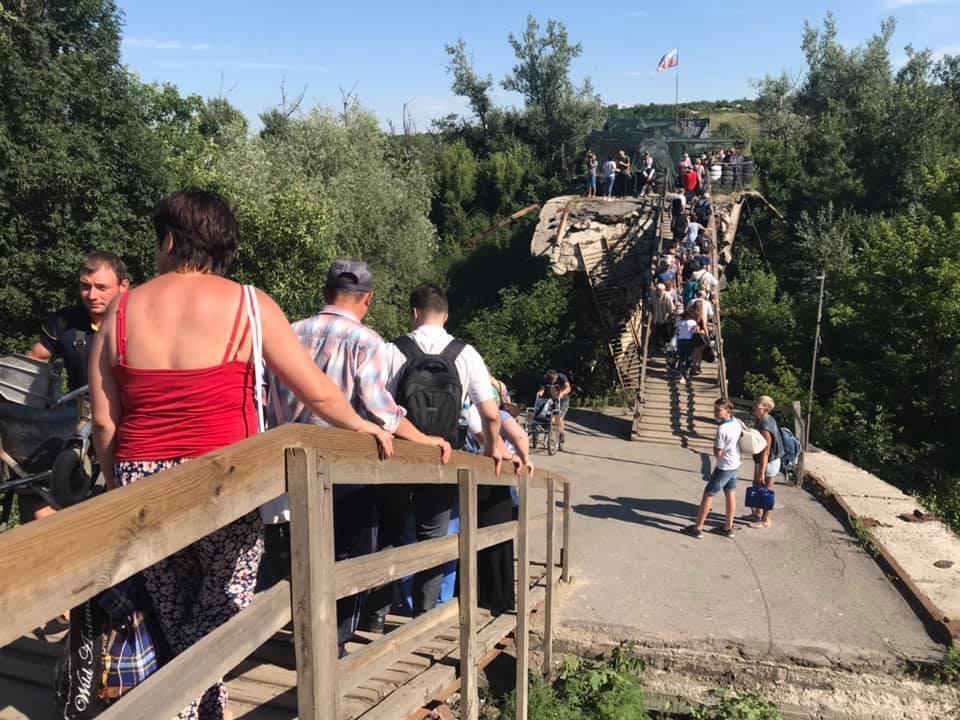 president.gov.ua
Russia-backed forces in Donbas have hampered the access of construction experts to a damaged bridge near Stanytsia Luhanska, the site of the recent disengagement.
The inspectors intended to assess the level of damage to subsequently come up with the corresponding project for bridge repair, according to Yuriy Zolkin, Head of the local administration.
In a video address delivered via Facebook, Zolking said: "Once again, the Russian side and the occupiers have shown that they don't want to create appropriate conditions for repairing the bridge."
"As soon as the experts descended to the ravine, they were warned that this would be perceived as an act of aggression, and a man sporting a military uniform, who was on the opposite side, forbade further advance," he said.
The official noted that a TV crew was filming the group of experts from the opposite side.
Read alsoRussia to resume sending "humanitarian convoys" to occupied Donbas
"We all remember well the year of 2014, when, after each shelling, a Russian TV crew would suddenly appeared – it would be Zvezda TV or some other channel. Now, we hear a man sporting a military uniform saying: 'We weren't warned about the work to be carried out' but we also see a TV crew who immediately came out from behind a defensive structure and began filming our experts who were trying to conduct a survey," he added.
As UNIAN reported, the disengagement of forces in the area of ​​Stanytsia Luhanska was launched on June 26 and completed on June 30, which was confirmed by OSCE SMM.
On July 8, Ukrainian President Volodymyr Zelensky declared that Ukraine was ready to unilaterally begin restoring the destroyed bridge in the area if the dismantling of concrete fortifications did not begin from the side of the occupied territories within a week.
On July 16, Deputy Head of the President's Office, Vadym Prystaiko, stated that during a meeting of advisors to the Normandy Four leaders, Russian representative Vladislav Surkov undertook to "influence" the proxy forces into dismantling fortifications to restore the bridge.
On July 18, Ukraine's representative in the political sugroup of the Trilateral Contact Group on Donbas settlement in Minsk, Roman Bezsmertnyi, said that the group members had decided to dismantle fortifications in the area of ​​the bridge, and to restore it.
On July 23, a working group on the restoration of the bridge was created, whose members included representatives of the Ministry of Infrastructure, Ukravtodor road agency, the Ministry of Defense, the Ministry for Occupied Territories and IDPs, the Ministry of Regional Development, the State Border Guard Service, the Luhansk Military-Civil Administration, as well as design and expert organizations.