Poroshenko: Ukraine capable of fighting against enemy if truce violated
The Ukrainian armed forces strictly abide by the ceasefire, but they are capable of fighting against the enemy if it violates the truce, Ukrainian President Petro Poroshenko said. The president is confident that "despite the fact that we remain supporters of the peaceful resolution of the conflict, gunpowder must be kept dry."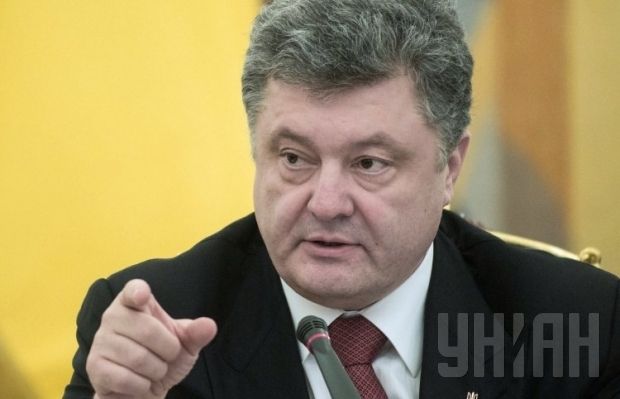 Poroshenko says Ukraine has enough strength and power to counter the aggressor / Photo from UNIAN
"We want to demonstrate that despite the fact that the Ukrainian Armed Forces strictly comply with the ceasefire regime, we are able to counter the enemy in case of its violation," Petro Poroshenko said at the National Guard's training center in Kyiv region on Saturday, an UNIAN correspondent reported.
New samples of national armament were on display at the center.
The Ukrainian defense industry has been working in three shifts, quickly boosting Ukraine's combat power, the president said.
"We emphasize that our tanks and armored personnel carriers are used to fight against unemployment: thousands of new jobs have been created at defense enterprises – this is our contribution to the restoration of the industrial potential of Ukraine," Poroshenko said.
"Precision and reliability are the main features of Ukrainian weapons," the president said. He also emphasized that Ukrainian-made drones, gunfire control systems, air defense systems would significantly reinforce the armed forces.
At the same time, he added, foreign military equipment provided by the international partners was also displayed at the training center.
The president examined, among other things, armored personnel carrier 3E1, armored vehicles BARS 8 and BARS 6, military vehicles HMMWV with combat modules of Ukrainian production, anti-aircraft missile system 'Pechora-2d', drones 'Fury' and Patriot RVO 10, drone which is a part of gunfire control system 'Suva,' striking UAV 'Yatagan,' lightweight combat module 'PBM,' automatic grenade launcher UAG'40, 82mm caliber mortar launcher KBA 48M1, automatic grenade launcher KBA 117, 7.62mm caliber machine gun, operational portable rifle produced on the basis of AK/AKM Gopak 61, modernized machine guns АКSМ-SN and АКМS-SB, 7.62mm caliber machine gun PKMT, 50bmg caliber sniper rifle M1 07 A1 and 338lm caliber sniper rifle MRAD. Among the presented samples were also metal detectors and optical instruments, such as thermal imaging devices, night vision scopes, night sights.
If you see a spelling error on our site, select it and press Ctrl+Enter