Moskal raises Ukrainian flag over Katerynivka
The village of Katerynivka, in Popasna district in Luhansk region, is back under the control of the Ukrainian authorities, the press service of Chairman of Luhansk Regional State Administration Hennadiy Moskal said on Monday.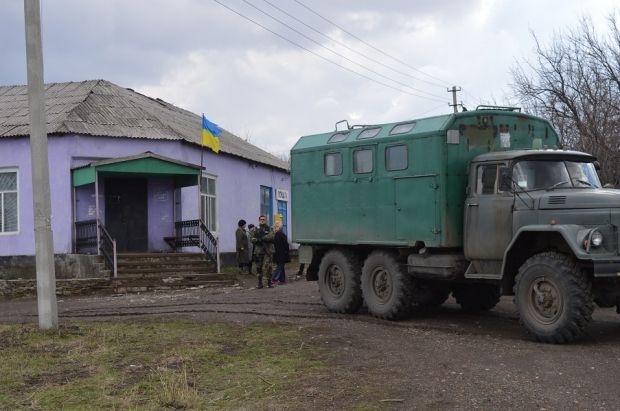 Photo from moskal.in.ua
According to Moskal, the village is actually located in no man's land, the so-called "gray" area behind the last Ukrainian fortified position.
"There are no divisions of our military there, or militants from the self-proclaimed Luhansk People's Republic. The village of Katerynivka legally belongs to Berezivskiy village council, which is occupied, that's why the village was disconnected from funding. After that, people began to turn to the local authorities to 'bring them back to Ukraine.' Regional governor Hennadiy Moskal brought to Katerynivka a humanitarian aid and personally talked to the villagers," the report reads.
According to Moskal, since the village is located behind the last Ukrainian checkpoint, the militants enter here from time to time, but most of the villagers support Ukraine. Now a yellow-blue flag is flying over the building in the center of the village.
"A total of 162 local residents and 32 displaced people, mostly from Pervomaisk are now living in the village. There are also about twenty children who do not attend school because it remains in occupied territory. People can't carry out spring field work due to the proximity of the front line," he said.
"The biggest problem for farmers is the lack of social benefits and the difficulty to reach the regional center. The first problem is almost removed, and the second one will be solved in the near future," Moskal said.
As reported earlier, Moskal has said there has been a decline in militant activity in Luhansk region.
If you see a spelling error on our site, select it and press Ctrl+Enter