ATO Headquarters: Militants armed with 700 tanks, 1,100 APCs
The Russian-backed militants in the Donbas now have almost 700 tanks and 1,100 armored combat vehicles, according to the report of deputy commander of the ATO Valentyn Fedichev from the information center of the Donetsk regional military and civil administration in Kramatorsk, Espreso.TV reports.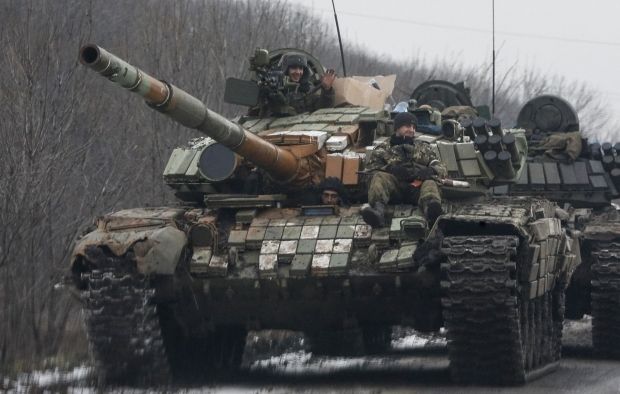 REUTERS
"[According to the Minsk agreements,] the 9,000 servicemen of the Russian regular armed forces must leave the occupied territories of Donetsk and Luhansk region, and all military equipment that has been illegally transferred by Russia to the territory of a sovereign state, and this is almost 700 tanks, more than 1,100 armored combat vehicles, nearly 600 artillery systems, more than 380 MLRS and 110 air defense systems, must be withdrawn," Fedichev said.
According to him, on April 7, 40 items of military equipment, including 10 tanks, arrived in Luhansk. On April 6, two companies of Russian troops arrived in the area of Debaltseve in Donetsk region.
"In [Russia's] Rostov region training is being conducted on combat operations performance in the city. More than 1,500 troops of the special forces of the Russian Federation Armed Forces are involved in the exercises," Fedichev said.
If you see a spelling error on our site, select it and press Ctrl+Enter