ATO forces destroy Russian tank near Pisky on Orthodox Easter
21:59, 12 April 2015
War
Updated
The Ukrainian forces of the anti-terrorist operation (ATO) near the village of Pisky close to Donetsk airport have been under fire for five hours since Sunday morning.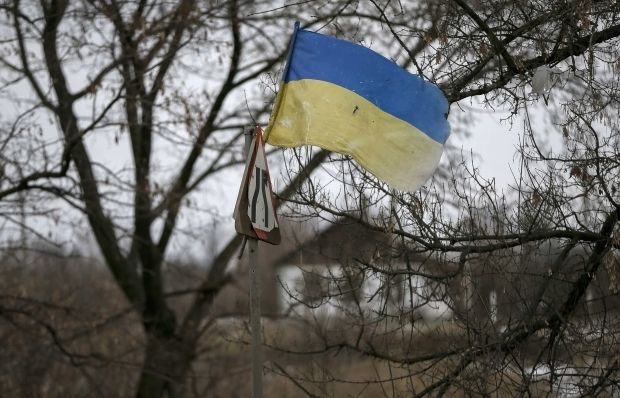 REUTERS
The Ukrainian servicemen on Sunday, when Ukraine is celebrating Orthodox Easter, are continuing to repel attacks along the line of contact in Donbas.
An enemy tank has been destroyed near the village of Pisky, Chief of the OUN battalion's Staff Bohdan Tytsky wrote on Facebook, according to apostrophe.com.ua.
"Pisky. A violent and difficult Easter. They have been using artillery systems since night to fire at us. Then tanks and what not have joined. Simultaneously, from different sides. One Russian tank has been destroyed," he wrote.
ATO forces located outside Donetsk are celebrating Orthodox Easter under fire
At the same time, the press service of the Krym (Crimea) separate company wrote on Facebook: "Since 0600 local time today there has been dense mortar fire (120mm caliber) near the village of Pisky, it has been lasting for five hours already. There is neither loss among personnel nor destroyed positions."
Сегодня с 6 часов утра идет плотный миномётный обстрел (120мм).пос. Пески, обстрел не прекращается уже 5 часов. Потерь среди личного состава нет, разрушенных позиций тоже.

Posted by Окрема сотня «Крим» on 12 Апрель 2015 г.
Oleksandr Karas, the Chief of the Staff of the 5th separate battalion of the Right Sector Ukrainian military volunteer corps wrote on Facebook, giving an update on the situation in Pisky: "An update from Pisky: separatists have requested to cease fire to gather dead bodies and pull out the tank, while the Command of the Armed Forces of Ukraine cannot find the hero among the soldiers of the 9th company who destroyed the tank. [They are] not boastful, however."
Остання інфа з Пєсок: сепари запросили пеоемирря, щоб позбирати трупаки і витягнути танк, а командування ЗСУ не може знайти серед бійців 9-ої роти героя "підбившего" танк. Скромні однако..

Posted by Олександр Карась on 12 Апрель 2015 г.
If you see a spelling error on our site, select it and press Ctrl+Enter