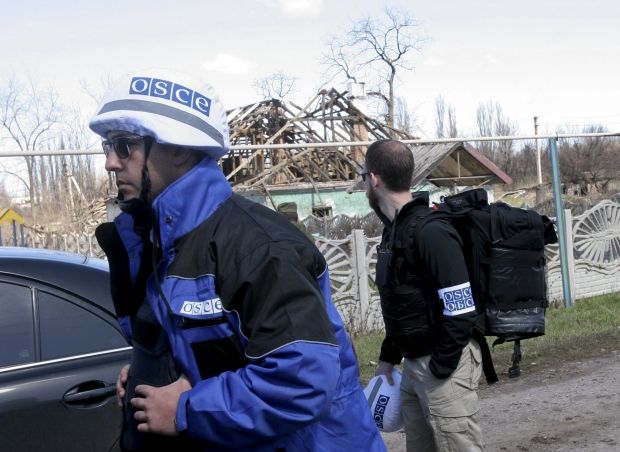 REUTERS
According to the minister, many among the OSCE SMM members are committed to achieving a ceasefire, but there are also those who do not contribute to de-escalation.
"Let's not talk without evidence. There are a lot of people in the OSCE mission, I say this with full confidence, who are committed to maintaining the ceasefire and the withdrawal of heavy weapons," Klimkin said during a televised interview on Tuesday evening.
"We have established a very effective and fruitful contact with the leadership of the mission. But, of course, there people who do not contribute to the process of de-escalation."
The minister mentioned cases of Ukrainian checkpoints being visited by SMM representatives, and then those positions subsequently being attacked by the Russian-backed militants.
"We analyze in great detail every fact, and if we have a suspicion that a representative of the mission is involved, we have a very serious talk with the leadership of the mission, and always with the right result - that's what I responsibly say," Klimkin said.
"Currently the process of further re-accreditation is under way. At present, the mission includes nearly five hundred observers, and we are talking about expanding the mission to a thousand observers," the minister added.
According to information recently published by the OSCE, its mission in Ukraine includes 23 Russian nationals, despite it being widely accepted that Russia is a party to the conflict and is providing direct military support to the militants, including command and control functions, as well as troops, weapons and ammunition.
The OSCE observer mission does not include any Ukrainian observers, although some Ukrainians are employed in support roles.