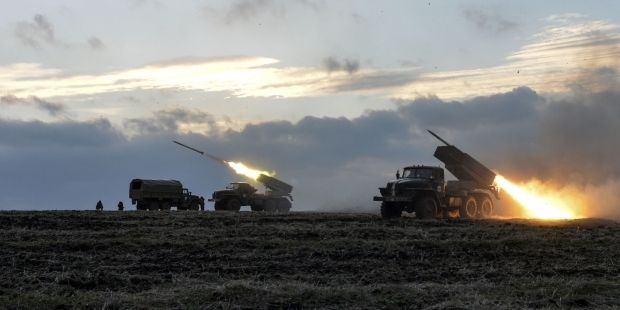 REUTERS
"In violation of the Minsk agreements, the criminals opened fire seven times with 120mm-caliber mortars, and once with 122mm-caliber artillery," the press center said in a post on Facebook.
"After a short break, the gunmen again resorted to shelling our positions with BM-21 Grad multiple rocket launchers," it said.
The press center said that from 1800 to midnight on Saturday Russian-backed forces in the Donbas violated the ceasefire 21 times.
"In Donetsk region near the village of Pisky the criminals opened fire in the direction of our fortifications with 120-mm mortars, as well as from tanks and with machine guns," the press center said.
In addition, the report said that in the area Avdiivka illegal armed groups attacked Ukrainian forces with automatic grenade launchers, sniper weapons and small arms, infantry fighting vehicles, 1200mm mortars and 122mm-caliber artillery. From 1810 to 1833 the militants launched a barrage of 14 Grad rockets in the direction of Ukrainian positions.
The militants also directed mortar fire on Ukrainian positions near the villages of Opytnoye, Talakovka, Maorsk and Shyrokino, the press center said.
There were no attacks recorded during this period in Luhansk region, it said.
Under the Minsk agreements of February 12 between Ukrainian President Petro Poroshenko, French President Francois Hollande, German Chancellor Angela Merkel and Russian President Vladimir Putin a package of measures was approved aimed at implementing the September Minsk arrangements. In addition, the leaders adopted a declaration of Ukraine, France, Germany and Russia in support of these measures.
Among other things, the new agreements reached by the "Normandy Four" group of nations provided for a ceasefire in the east of Ukraine from 0001 on February 15 and the withdrawal of all heavy weapons from the front line. In addition, both sides were to release all of their prisoners.
However, the ceasefire quickly broke down, and the Russian-backed militants went on to attack and capture the Ukrainian-held town of Debaltseve on February 18. Since then, there have been practically daily violations of the ceasefire, with the intensity of the fighting rising significantly over the past week.