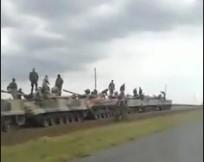 Screenshot
Officer of the 53rd Separate Mechanized Brigade of the Armed Forces of Ukraine Anatoliy Shtefan has posted footage showing a convoy of Russian military hardware stationed in Rostov Oblast near the border with Ukraine.
Read alsoUkraine reports 13 enemy attacks in Donbas on Sept 19
"What do we have here – preparations for war?... Look how many units of military equipment: tanks, infantry fighting vehicles... That's wild! It's in front of Rodionovka here… Self-propelled guns… Holy cr*p!" a male voice on the video says.
According to Shtefan, the video was shot on September 19.
"September 19, Rodionovka, Rostov Oblast. A convoy of Russian heavy armored vehicles 15 km from the border with Ukraine. Is it a military exercise, saber-rattling, rotation, or amassing troops on the border? Such videos from different parts of the border areas have recently started popping up in open sources more frequently. Therefore, we have to be always ready," he wrote on Facebook on September 20.
Viewer discretion is advised (Foul language)
According to Google maps, the village of Rodionovka is located approximately 70 km from the border with Ukraine.