Pyatt: Russian military deploys additional air defense systems in eastern Ukraine
Russia is currently building up forces near the Ukrainian border, U.S. Ambassador to Ukraine Geoffrey Pyatt wrote on Twitter on Thursday.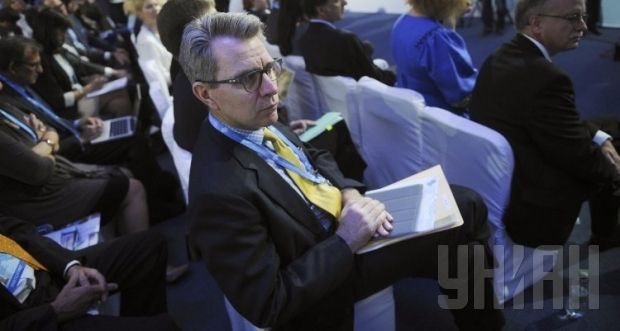 UNIAN
"Russia has continued to ship heavy weapons into eastern Ukraine since the 'Minsk 2' ceasefire took effect on February 15 ," Pyatt tweeted.
"These forces will give Russia its largest presence on the border since Oct. 2014. It has redeployed elements near Belgorod, opposite Kharkiv."
According to Pyatt, the Russian military deployed additional air defense systems in eastern Ukraine and set up several of them closer to the front line.
"This is the highest amount of Russian air defense equipment in eastern Ukraine since August," he said.
"Russian and separatist forces also have a large concentration of command and control equipment in eastern Ukraine," Pyatt said.
"Combined Russian-separatist forces maintain a number of artillery pieces, multiple rocket launchers in areas prohibited under Minsk accords.
"[These] forces conduct complex training in east Ukraine. [The] complexity of [the] training leaves no doubt Russia is involved"
If you see a spelling error on our site, select it and press Ctrl+Enter