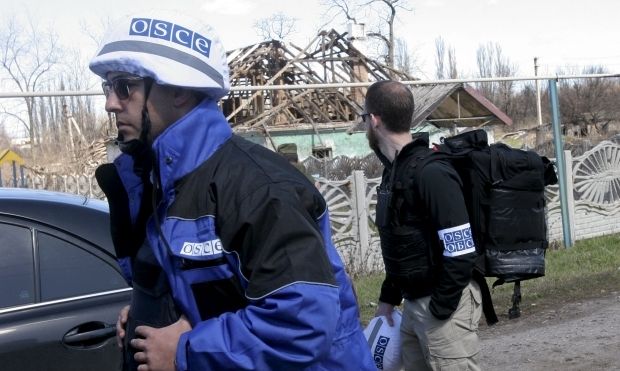 REUTERS
The headquarters said it was "unacceptable for the OSCE Special Monitoring Mission (SMM) to disseminate false or incomplete information."
According to the press service of the Defense Ministry, the headquarters disputes the accuracy of the data of the OSCE SMM regarding the number of militant attacks on Ukrainian positions in the region of Shyrokyne near the city of Mariupol.
The ministry said there was a need for the mission to set up monitoring Webcams in the "hottest spots" along the front line.
"There is a report on the official Web site of the OSCE's SMM where it is stated that during the day on April 26 the mission observers recorded just 413 shots from weapons of various types near the village of Shyrokyne in Donetsk region, which were allegedly fired by the armed forces of Ukraine in the direction of territory controlled by the illegal armed groups in certain areas of Donetsk region," the ministry said.
"ATO Staff Command say officially that the data published by the OSCE SMM do not correspond to the information on shelling in the territory controlled by Ukraine that was recorded by the ATO Headquarters in G sector," the press service of the ATO headquarters said.
During the same period of time on territories controlled by Ukraine, the OSCE SMM observers recorded only two explosions of 122 mm caliber artillery shells on the eastern outskirts of the government-held village of Berdiansk in Donetsk region, the headquarters claimed.
According to the Defense Ministry, "during that day there were 17 cases of [militant] attacks on the positions of the Armed Forces of Ukraine, in response to which the Ukrainian forces opened fire eight times. This information is indirectly confirmed by data obtained from the Joint Center for Control and Coordination's representatives in Donetsk oblast, who were carrying out ceasefire monitoring at an observation post."
According to the OSCE SMM report for April 26 from Berdiansk, mission observers recorded 50 explosions and bursts, incoming and outgoing, from 82mm mortars, 122mm mortars, small arms and light weapons, between 1800 and 1839.
The report on ceasefire violations from the OSCE for the period in question can be found here.