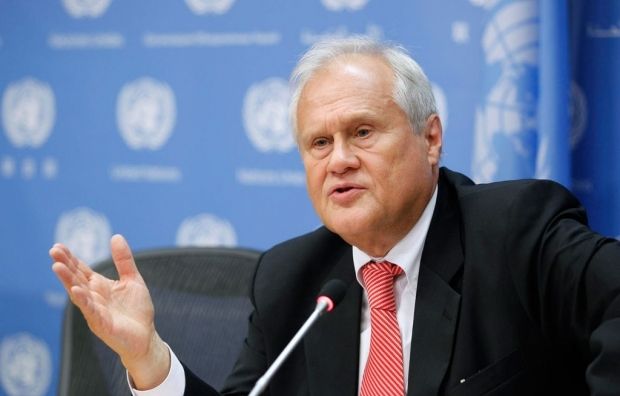 Martin Sajdik / Photo form unmultimedia.org
Special Representative of the OSCE Chairperson-in-Office in Ukraine and in the Trilateral Contact Group, Ambassador Martin Sajdik says that deploying a United Nations peacekeeping mission in Donbas, eastern Ukraine, is not realistic at the moment.
"I would not say it is realistic at the moment. Deploying peacekeepers is possible if the parties agree. UN peacekeepers cannot be in Donbas without the common consent," he told the Ukrainian internet TV Ukrlife. "We need a decision by the UN Security Council. And we all know who is a member of the Security Council [Russia is a permanent member of the UN Security Council]. Therefore, the common consent is a prerequisite."
Read alsoRussia-led forces attempt to shoot OSCE drone in Donbas on Oct 26 – JFO HQ
He suggested that a joint UN-OSCE mission could be created.
"I believe it would be more reasonable to theoretically have such a joint mission, because the OSCE has been working there for a long time," he said.
Representatives of Ukraine, Russia, the United States, Germany and France have been negotiating the deployment of peacekeepers to Donbas since September 2017.
Kyiv insists that peacekeepers should be present throughout Donbas, including the stretch of the Ukraine-Russia border it does not control.
Moscow agrees to the deployment of a UN mission only along the contact line, which separates Russia-controlled districts of Donbas from the rest of Ukraine.
Ukraine's Foreign Minister Vadym Prystaiko said on September 18 that Ukraine would try to settle the situation in Donbas under the Minsk agreements, and the introduction of a peacekeeping mission there is seen as one of the steps if the parties fail to achieve peace.