Tymchuk: Militants actively training in residential areas of Donetsk
Russian-backed militants in the Donetsk are regularly training in residential areas, using small arms and rocket-propelled grenade launchers, to the great annoyance of the local population, head of the Information Resistance group Dmytro Tymchuk wrote on his Facebook page on Thursday.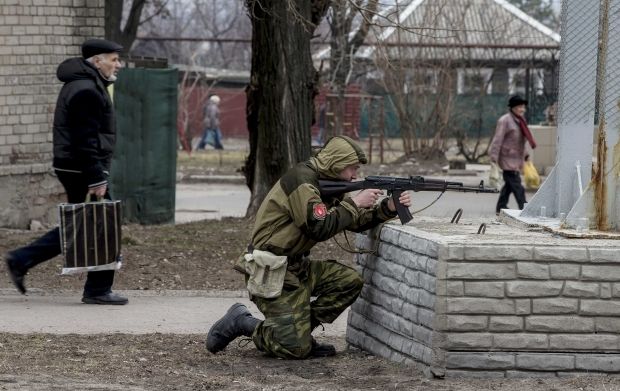 REUTERS
"In the Kyivskiy district of Donetsk, we have observed an increased amount of militant artillery deployed in residential districts," Tymchuk also said.
"Due to limitations in the distribution of fuel, as administered by the commanders of the militants in Donetsk, militant reconnaissance groups are going 'on their missions' by public transport," Tymchuk said.
Under the Minsk peace accords, heavy artillery and other weapons were supposed to have been withdrawn by the militants from Donetsk, which is close to the front line between the warring sides in the Donbas. However, heavy weapons are regularly reported as being present in areas forbidden under Minsk.
The OSCE, which was charged with overseeing a ceasefire in the Donbas, which never in fact came into effect, is also supposed to monitor the withdrawal of heavy weapons.
However, the organization has regularly reported the use of heavy weapons by both sides long after the weapons withdrawal was supposed to have been completed.
The OSCE also says that a parade involving heavy weapons that militants in Donetsk plan to hold on Victory Day on May 9 is a violation of the Minsk peace accords.
The organization has also complained about not being given free access, especially in militant-held territory, to all areas it is required to monitor under the Minsk agreements.
If you see a spelling error on our site, select it and press Ctrl+Enter