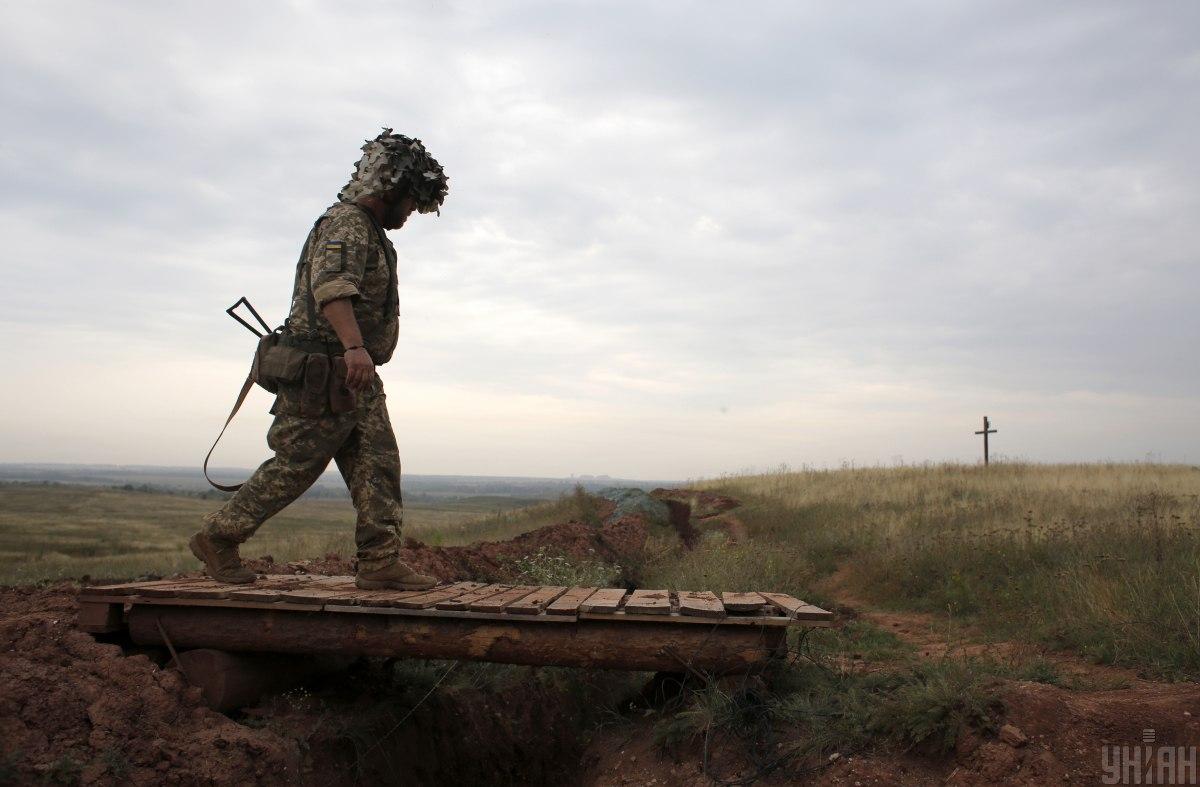 Photo from UNIAN
Ukraine's Joint Forces Operation (JFO) Headquarters has reported that the "yellow" regime was introduced in the JFO zone in Donbas, eastern Ukraine, on October 28, 2019.
Individuals must possess identity documents for staying or moving, while their belongings and vehicles are subject for inspection, the JFO's press center wrote on Facebook on October 30.
Read alsoOn Tuesday, enemy nine times opens fire on Ukraine's Joint Forces in Donbas
At the same time, military personnel and law enforcement officers have been provided with special powers for the "yellow" regime period:
- to use, in case of emergency, weapons and special means in relation to persons who have committed or are committing offenses or other actions that impede the fulfillment of the legal requirements of persons involved in the JFO;
- check identity documents of citizens and officials and detain those without IDs to establish their identity;
- carry out personal inspection of citizens, their belongings, as well as vehicles and luggage carried;
- enter (penetrate) into residential and other premises, onto land plots owned by citizens, into the territory and on premises of enterprises, institutions and organizations;
- to use for official purposes means of communications and vehicles owned by citizens (with their consent).
Under certain conditions, the following activity is permitted:
- temporarily restrict or prohibit the movement of vehicles and pedestrians on the streets and roads, ban citizens' vehicles from entering certain sections of the terrain and facilities, withdraw citizens from such sections, and tow off vehicles;
- use for official purposes vehicles, including special ones, those that belong to enterprises, institutions and organizations, except for vehicles of diplomatic, consular and other representations of foreign states and international organizations.
The following restrictions are set for persons not involved in the JFO:
- limited access (entry/exit) to the JFO area;
- permits required for entry (stay) in the JFO zone;
- admission of public authorities' envoys;
- storage, use and movement of registered firearms (rifled military samples, out-of-date small arms, sports and training arms, as well as rifled and smoothbore hunting arms), relevant ammunition, cold steel (crossbows, hunting knives, etc.), premium, pneumatic and traumatic weapons, devices for shooting cartridges equipped with rubber or similar to their properties projectile shells of non-lethal action, and relevant cartridges;
- unmanned aerial vehicle (UAV) and light-engine aircraft flights, as well as video shooting, filming, and photography;
- use of radio stations in vehicles;
- tourist excursions, as well as hiking, fishing, and hunting;
- visits to forests, and certain areas of the territory;
- a list of safe road and rail directions;
- restriction of passage of vehicles along bypass routes;
- measures to ensure public safety and order on the streets.
As UNIAN reported earlier, the process of the disengagement of forces on both sides of the contact line started near the village of Zolote-4 on October 29.