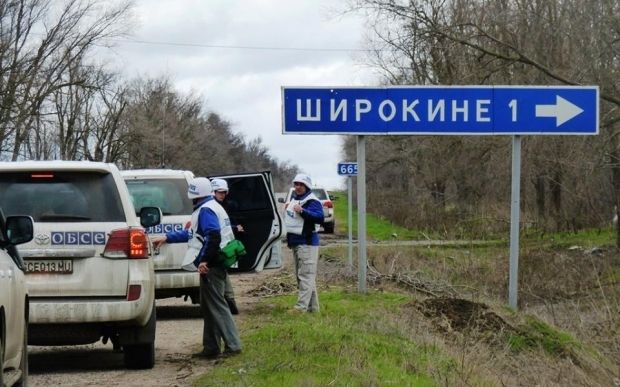 There are unconfirmed reports of heavy fighting in Shyrokyne \ facebook.com/ato.news
According to an OSCE mission report released on Monday, the mission on May 2-3 recorded 698 explosions at its observation post at the railway station in Donetsk.
The mission said the most intense period of firing was heard on May 2 between 1245 and 1700, with 271 blasts recorded. The report noted that only slightly fewer explosions were heard on May 1.
The mission said it had recorded the use of large-caliber mortars, machine guns, artillery, small arms and tanks. According to the Minsk peace agreements, large-caliber weapons should have been pulled out of range of the front line, which runs close to the city of Donetsk, weeks ago.
The OSCE's report tallies with recent reports from the Ukrainian military, which on Monday said the number of attacks on Ukrainian forces by the militants had risen recently to levels not seen since the latest Minsk agreement was supposed to have come into effect on February 15.
The ceasefire in fact appears to be non-existent in the area of Donetsk airport and the nearby Ukrainian-held village of Pisky. Instead, the Joint Center for Control and Coordination, a liaison group of Ukrainian and Russian military officers set up under the initial Minsk peace agreements of last September, said it had five times attempted to halt the fighting – four times on May 2, and once on May 3, but had been unsuccessful.
Meanwhile, there were unconfirmed reports on Monday evening of heavy fighting in the village of Shyrokyne, near the southern port city of Mariupol, with each side claiming the other had launched a major offensive in the area.