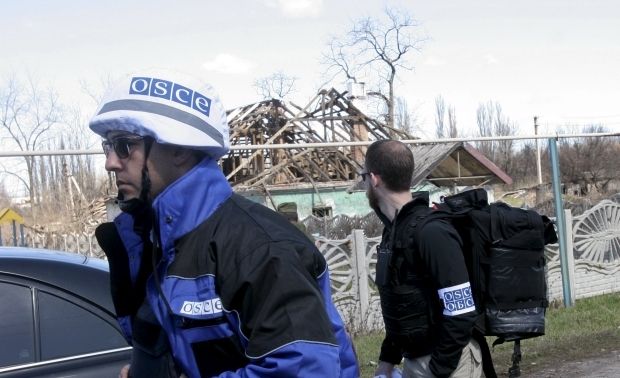 REUTERS
OSCE Deputy Chief Monitor Alexander Hug at a briefing in Kyiv on Thursday said mission staff had heard the sound of Grads in Donetsk on May 2 and in Hranitne on April 30.
Donetsk is controlled by Russian-backed militants, and Hranitne is under government control. However Hug did not say who had launched the Grads, although he said later on Twitter that the Grads heard in Donetsk had been outgoing from militant-held territory.
The Ukrainian military has several times reported the use of Grad rockets by the Russian-backed militants, including on April 28 in the village of Novolaspa in the Volnovakha region, two days before the OSCE said it had first heard the weapon being used since the "ceasefire" in eastern Ukraine. The Ukrainian military also reported on April 25 that Grad rockets had been fired at Hranitne.
"Over the last few days, we have continued monitoring and reporting on the deterioration of the security situation in eastern Ukraine", Hug said.
"While the ceasefire is in place, there remain 'hot spots.' The situation around the Donetsk airport is unpredictable and there are ever more violations of the agreements, [and] people continue to die," Hug said.
"Over the last week the OSCE SMM have heard hundreds of sounds of attacks. Especially on May 2 in Donetsk we heard the launching of Grad rockets, which led to civilian casualties."
He said that on April 30 the mission had spotted five craters that indicated that the village of Hranitne had been shelled by Grad rockets.
Earlier UNIAN reported that the OSCE had documented nearly 700 cases of ceasefire violations around Donetsk airport and around the village of Shyrokyne.