MP: Militants escalating conflict with heavy weapons from hidden arms depots in city of Donetsk
Russian-backed militants are attacking Ukrainian forces with more powerful weapons, which are brought to the front from hiding places in the city of Donetsk, a Ukrainian MP has claimed.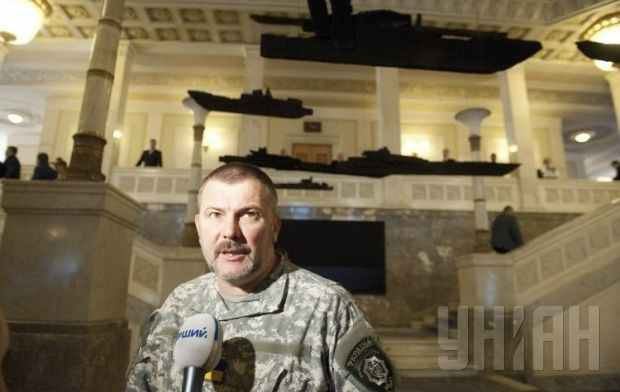 Bereza: there is a constant escalation of the conflict by the militants / Photo by UNIAN
Speaking on Ukrainian television's 112 Ukraine channel, MP Yuriy Bereza, who is also the commander of the Dnipro-1 Territorial Defense Battalion based in Dnipropetrovsk, said the Ukrainian military unit has videos that show military equipment hidden on the territories of enterprises all around Donetsk city.
"We're currently being shelled constantly in Pisky, [a village on the front line near the city of Donetsk]," Bereza said.
"Previously it was only 82mm caliber mortars, but the militants have switched to more powerful weapons now. I'm not taking about what's going on with small arms – those little skirmishes are subsiding."
Under the Minsk agreement of February 12, all weapons of a caliber larger than 100mm were to have been withdrawn by both sides far out of range of the front line. However, Ukraine has reported the use by the militants of 122mm mortars, 122mm D-30 howitzers, and 122mm Grad multiple rocket launchers many times since the supposed ceasefire was to have come into effect.
The OSCE, the organization charged with overseeing the ceasefire and heavy weapons pullback in eastern Ukraine, on Thursday said it had recorded the sound of Grad rockets being fired in front line areas for the first time since February 15, when the ceasefire was supposed to have started.
"If you analyze everything that happens behind the line of demarcation, with the intelligence that we have, I now can confirm that almost nothing that the militants were supposed to have done after Minsk-2 [the Minsk implementation agreement of February 12] – the withdrawal of heavy weapons – has actually been done," Bereza said.
"We have a lot of footage that confirms that in the city of Donetsk, in enterprises where there are warehouses, all the weapons [that were to have been withdrawn] are hidden, and these weapons are ready for the attack."
Bereza said a similar situation could be observed all along the front line, from Avdiivka to Mariupol, and that there is a constant escalation of the conflict by Russian mercenary fighters.
The Ukrainian military said that on Thursday two Ukrainian soldiers were killed and nine wounded when Ukrainian positions near the town of Horlivka were shelled by the Russian-backed militants.
The military says the militants carried out 40 attacks on Ukrainian positions in the Donbas on May 7.
The militants have in turn accused the Ukrainian army of carrying out provocative shelling of their positions.
If you see a spelling error on our site, select it and press Ctrl+Enter