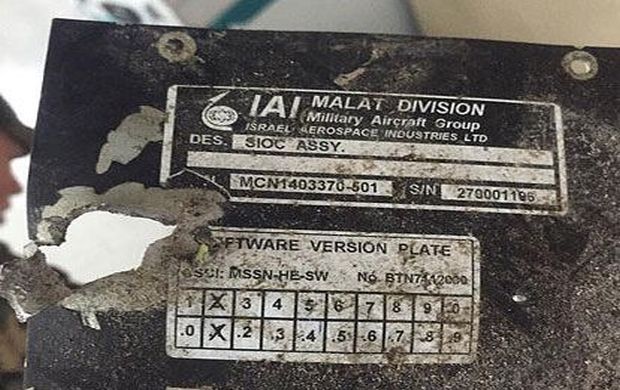 Part of the drone shot down by the Ukrainian military / Photo from 9tv.co.il
According to Israeli Channel 9, the staff of the Air Intelligence of Ukraine unit identified company plates with inscriptions and the manufacturing index of Israel Aerospace Industries when examining the parts of the downed UAV, as reported by one of the unit commanders of Air Intelligence of Ukraine, Israeli Nathan Khazin, who has been launching Ukrainian drones in the ATO area since the summer of 2014.
Nathan Khazin with parts of the downed Israeli-built Russian drone / Photo from 9tv.co.il
According to Khazin, this was not the first time that the Ukrainian military has shot down Israeli-made drones. Experts say that Russian drones are also equipped with cameras and inertial orientation systems produced in Israel.
The drones are launched by professional military men, rather than just "militants," Khazin said. He said it was unlikely that Israel would have sold its drones to the fighters of the so-called Donetsk People's Republic. Therefore, the fact that such vehicles are appearing over the Donbas is evidence of the direct military intervention of Russia in this conflict, he said.
Khazin, who has served in the Israel Defense Forces (IDF), described the current situation as a strange one.
"Israel, declaring neutrality in the conflict, refuses to sell drones and other military equipment to Ukraine, but has supplied the Russian Federation with its obsolete UAV technology. Moscow, in turn, has been supplying its Arab 'friends' with the most advanced Russian weapons," Khazin said.