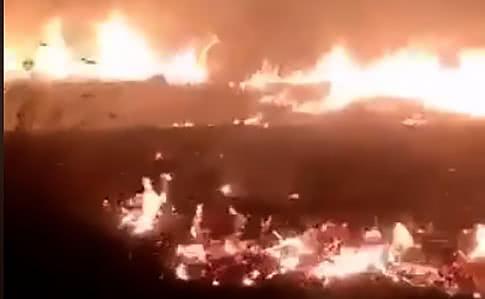 snap from video
On Sunday evening, November 24, six houses burned down to the ground as a result of shelling by Russian-led forces near the village of Berezove, Donetsk region.
"At about 18:00 on November 24, Russian occupiers opened heavy-maching-gun fire at the positions of the Joint Forces near the village of Berezove in Donetsk region, with the use of tracer and armor-piercing incendiary ammunition," the press center of Ukraine's Joint Forces Operation wrote on Facebook.
Dry grass caught fire amid shelling.
Read alsoUkraine reports seven enemy attacks in Donbas on Nov 24
"Strong winds led to the rapid spread of fire, including toward the nearby cabins. Six cabins almost completely burned down," the headquarters said.
The military of the Armed Forces of Ukraine quickly evacuated the civilians. There were no casualties.
The fire was put out at about 23:00.