OSCE: Grad and Gvozdika systems of militants disappear from storage sites
Fighters of the Donetsk People's Republic militant organization have removed six Grad multiple launch rocket systems and four 2S1 Gvozdika 152-mm self-propelled artillery systems from their storage locations, the OSCE has reported.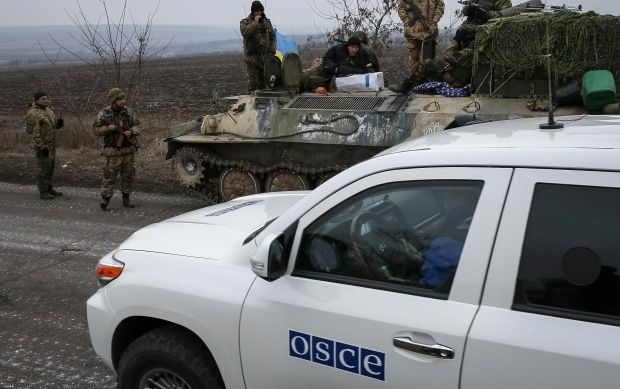 REUTERS
The militants told OSCE observers that Grad systems and self-propelled guns were repositioned for training purposes, the OSCE Special Monitoring Mission said in its report from May 12, Ukrainian news broadcaster TSN has reported.
At the same time, OSCE SMM has spotted seven mortar systems (120 mm) in one of the storage sites which had previously not been there. In a third storage location, all the weapons recorded previously were in place.
 The observers also carried out visits to the heavy weapons storage sites of the Ukrainian military. At one of the places the OSCE mission members were denied access because the commander was absent.
The report notes that despite being given assurances by both sides of the completion of the heavy weapons withdrawal, observers continue to record the movement of such weapons in forbidden areas, which runs contrary to the Minsk agreements.
In parts of Ukraine controlled by the DPR militant organization observers spotted four T-72 tanks in areas where they should not be under the Minsk agreements, and another four tanks were seen in such areas of Ukraine in Luhansk region where the Luhansk People's Republic militant organization has seized control. 
In government-controlled territory SMM members spotted six tanks (five T-64 tanks, and one T-72) and one 122-mm howitzer.
In addition, and OSCE drone has recorded three artillery systems of the Armed Forces of Ukraine close to the village of Pionerske near Mariupol, which is controlled by the Ukrainian side.
If you see a spelling error on our site, select it and press Ctrl+Enter