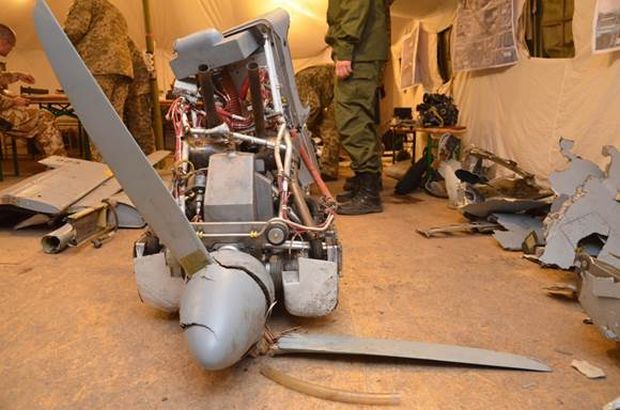 Photo from the SBU press service
Markiyan Lubkivsky, an adviser to the head of Ukraine's SBU security service, said at a briefing in Kyiv on Thursday that the sophisticated, five-meter-long "Forpost" drone was manufactured in 2013 at the Ural Civil Aviation Plant in Russia.
"This is additional proof that Russia is carrying out aggression against our country," Lubkivsky said.
Pictures of the downed drone posted by the Ukrainian military's Dnipro-1 battalion early on Thursday showed the Russian manufacturer's markings, and markings from Israeli-made electronic equipment used in Forpost drones, which are made in Russia under license from Israel.
In a press release posted on Facebook, Dnipro-1 said the $6 million drone was one of only eleven in service with the Russian armed forces.
As news of the shoot-down spread, pictures of what appeared to be the same drone being assembled in the Ural Civil Aviation Plant were posted on Twitter. The drone wreckage pictures posted by Dnipro-1 and the factory pictures both showed the same identifying number – 923.
Russia has denied that its armed forces are present in eastern Ukraine, but the fast accumulating weight of evidence of direct Russian involvement in the conflict in Ukraine's Donbas has already made Kremlin denials scarcely credible.
Also on Thursday, the SBU released photographs of the members of a Russian special operations unit that it said has been active in Ukraine for months.
The soldiers in the pictures were earlier named by two suspected Russian special operations soldiers who were captured by Ukrainian forces on the weekend.
According to the SBU, the Russian military team was on a mission to prepare for the capture of the Ukrainian town of Shastya, where a strategically important heat and power plant is located. The plant serves government-controlled areas of the north of Luhansk region.