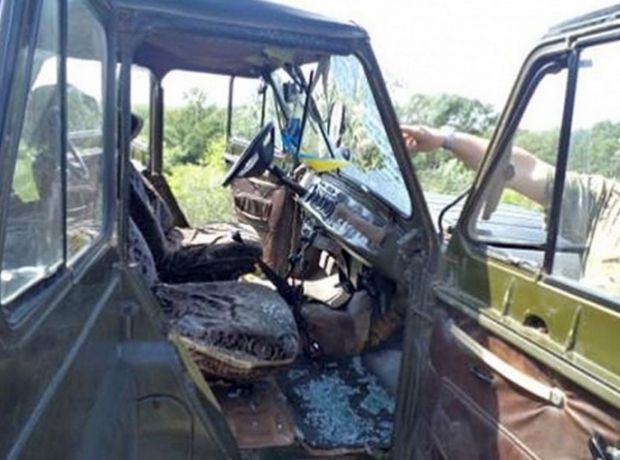 Photo from Ukrainska Pravda
According to Semeniuk, this was the second such case in the last three days.
A mobile patrol of the Ukrainian Joint Center, consisting of two cars, was attacked in Volnovakha district of Donetsk region, eight kilometers from the demarcation line.
As a result of shelling, one of the cars was damaged, but there were no casualties.
"The continuous nature of the activity of sabotage and reconnaissance groups of illegal armed groups in certain areas of the Donetsk and Luhansk regions along the demarcation line is not only evidence of attempts by the Russian-backed militants to discover the defense system of the Ukrainian Armed Forces, but also the attempts to paralyze the work of the Joint Center to achieve a ceasefire," said Major-General Andriy Taran, the head of the Joint Center for Coordination and Control on the ceasefire and stabilization of the demarcation line.
"Thanks to the blossoming trees, the demarcation line has become especially "transparent" for the militants, [who can now] penetrate into Ukrainian territory," he added.
According to the report, only three days ago, on May 23, the militants fired small arms on a car of the Ukrainian Joint center in a "neutral" zone that was driving from the militant-controlled Horlivka checkpoint in the direction of the Ukrainian-controlled Maiorsk checkpoint.