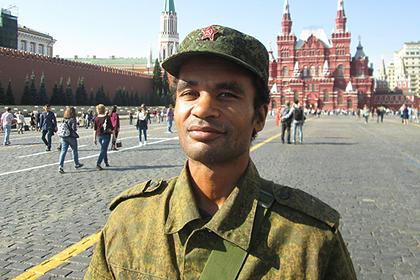 Photo from Aijo's VKontakte page
Notorious Latvian-born terrorist who joined the so-called "Donetsk People's Republic" ("DPR") in the Donbas war Beness Aijo, nom de guerre 'Black Lenin,' has been detained in Russia's Arkhangelsk region at the request of Ukraine.
Read alsoUkraine reports five enemy attacks in Donbas on Feb 11
Aijo was apprehended in the village of Yarensk, Russia's Regnum News Agency reported.
He came to the region to support residents of the village of Shiyes protesting against the construction of a landfill.
It is reported Aijo may be extradited to Ukraine.
UNIAN memo. Beness Aijo, 40, a Latvian citizen of Russian/Ugandan ethnicity. He has been an activist of the National Bolshevik Party since 1998, member of the Communist Party of Great Britain (Marxist-Leninist), and the Korean Friendship Association-UK. Aijo has participated in many actions in solidarity with Palestine. He was active in the 2014 annexation of Crimea by the Russian Federation and joined Russia-led forces fighting against Ukraine in Donbas. Aijo has been arrested multiple times and tried for his political activities.