Fire in pipeline in Donetsk region caused by shelling: smoke column seen 40 km away
A gas pipeline was damaged and caught fire in the Donetsk region as a result of shelling by Russian-backed militants, Head of the Chief Directorate of the Interior Ministry of Ukraine in Donetsk Region Vyacheslav Abroskin wrote on Friday on his page on Facebook.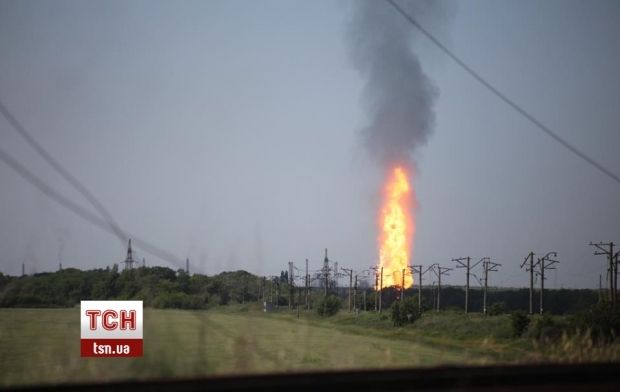 Photo from tsn.ua
"A mortar attack launched by militants damaged a gas pipeline on the territory of Yasinovaty district, between Krasnogorovka and Novokalinovo, with gas burning in close proximity to Avdiyivka. Reports of casualties are being checked," Abroskin wrote.
Abroskin said that the militants continued to fire. From 0500 in the morning the militants have been shelling from tanks and mortars at positions of the Ukrainian military in Avdiyivka and then began firing on a medium-pressure gas pipeline in the village of Krasnohorivka, a correspondent of Ukrainian news broadcaster TSN has reported.
The pipeline has been damaged in three places and started to burn. A smoke column can be seen from 40 kilometers. Rescuers and military doctors have been deployed at the scene, but the fire has not been localized yet. The fire point cannot be approached closer than one and a half kilometers. The situation is aggravated by the fact that is located near a forest belt, with some trees already in fire. The shelling continues. No information about casualties has been reported yet.
If you see a spelling error on our site, select it and press Ctrl+Enter